Fan who famously made Brendan Fraser tear up meets him at Comic Con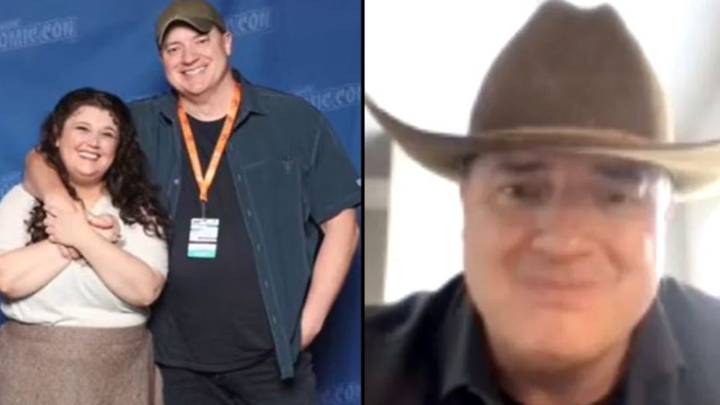 The fan who who famously made Brendan Fraser tear up finally got to meet him in real life at Comic Con. Watch below:
The infamous interview that made The Mummy actor Brendan Fraser 'choke up' was all thanks to a fan named Lindley.
Last year, the long-time admirer of the 53-year-old went viral after she spoke to the star for GalaxyCon Live, for just two minutes via zoom.
At the time, Fraser had been cast alongside Leonardo DiCaprio and Robert DeNiro in Martin Scorsese's forthcoming movie Killers of the Flower Moon.
In the footage of their exchange, Fraser tells her: "I'm going to work with Scorsese and Leo and Bob DeNiro."
Lindley - who had dressed up as Evie from The Mummy for the occasion - congratulates him, saying the news is 'so exciting'.
Fraser replies: "Thank you, I think I might be sick! A little anxious. I mean, it's going to be fun, but I'm like [pretends to chew fingernails]."
Lindley then says: "You've got this. You've got this. Just know that the internet is so behind you. We're so supportive. There are so many people out there who love you, and we're rooting for you. And we can't wait to see what you do next."
Fraser smiles, before coyly taking a swig of water as he seemingly chokes up.
"Shucks, ma'am," he says, rearranging his hat.
Well, two days ago (9 October), Lindley has uploaded a video of her meeting her hero in real life.
She captioned the post: "It's come full circle."
Her text overlay on the vid reads: "I made a very last minute meet and greet purchase, and I have no regrets."
The viral clip shows her getting ready for the big occasion and fans were delighted with the news.
"I love this. And you. And him," one fan wrote.
Someone else commented: "Oh my goodness that picture is so sweet!"
Another added: "Ahhh I'm so happy for you I just smiled the biggest smile ever when I saw the pic at the end!!!!"
One user asked the question most people were asking: "Did he remember you?!?!?"
To which the TikToker replied: "Maybe. I'll make a post about it soon!"
He was asked by an eager fan: "Do you ever get like 'this is kind of weird' or, like, you know people are kind of taking it too far or do you just take it, you know?"
Brendan replied: "I'll answer your question. Just recently - and I'm not real big on social media, forgive me for that I'm a luddite apart from the Zelda thing - I did a, like, a meet and greet at a con and it went on to TikTok and I had a nice little chat with this lovely woman called Lindley, I learned her name.
"You were kind of choking up," the fan intervenes.
Brendan adds: "Yeah, I backed into that, I was like I don't know I felt like, she was so sincere.
"I appreciate it and it let me know that I guess I just wasn't aware that there's that much support.
"I appreciate it very very much."