Britain's Got Talent Viewers Baffled After Discovering Singer's Age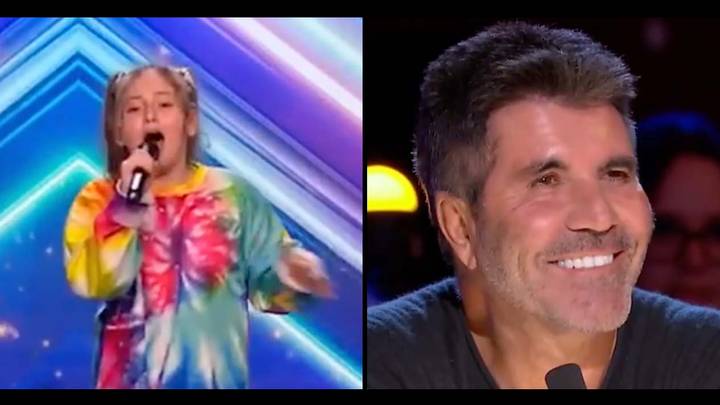 Britain's Got Talent viewers couldn't believe what they were hearing after learning about one singer's age.
In last night's episode of the long-running talent show, Immi Davis took to the stage of the London Palladium.
Davis belted out an incredible rendition of 'I Put A Spell On You' and viewers were shocked when the powerful singer revealed her age.
Davis already had a pretty great stage presence, and when responding to judge Simon Cowell's question about why she chose the classic song, she replied: 'It's because I've been practicing it'. Fair play.
What ensued was Davis absolutely belting the song out and proving that age has nothing to do with talent.
But viewers were even more gobsmacked when the talented singer told judges that she is just nine years old.
Yep, nine. Around that age, most of us were sniffing primary school jumpers to tell whether it was ours.
People were quick to react to Davis' performance on Twitter, with one user saying: "Great to see a child with real talent, without the patronising rubbish that gets put through. This young girl is phenomenal, no sympathy voting, no sob sorry. Just a great strong amazing voice. Pure raw talent, amazing!"
While another wrote: "I just love this kiddos energetic, quirky & funny personality! She has an amazing voice & such a broad genre of songs she sings! On many of her LIVE "fun vocal sessions" she'll give shout outs to her fans & loves to fulfill song requests she's a shining star!"
"How does a 9 year old sound like that #BritainsGotTalent," someone else wrote, while a fourth said: "That kids voice sounded wayy older, I questioned if it was actually her tbh.. BRILLIANT though #BritainsGotTalent."
Davis is pretty active on social media and announced her Britain's Got Talent debut to fans, saying: "Tonight's the night guys…watch me on #BGT on ITV at 8pm this evening! Really hope I make it through! Will also be busking live in London via fb today too!!! Very excited !!!"
The young singer even gives impromptu performances at London spots like the Theatre Cafe.
The cafe shared footage of Davis' performance on Twitter, with the caption: "Did you see @immidavis?!? Yesterday Immi popped into The Theatre Cafe and sang us a song on our stage! 9 YEARS OLD."
Of course, she received four yeses from the judges and is now through to the next round of the talent show, where judges decide who makes the cut and will continue to the live semi-finals, competing for the chance to win the £250,000 prize and a spot at the Royal Variety Show.