Former Neighbours star reveals what it was like ditching acting for porn
Former Neighbours actor Caitlin Stasey has opened up about what it was like going from film to porn sets.
While many starlets make the transition from acting to directing, very few do it in the adult entertainment world.
But the Smile actor revealed she began working for the pornography company Afterglow to hone her skills as a filmmaker.
She told news.com.au's podcast I've Got News For You that her first adult film took inspiration from over-sexualised perfume ads.
"They're always so sexy, and it always feels like sex is about to happen, when they're sniffing each other's necks and like, licking each other's wrists," she explained.
"So I kind of came up with the concept of a perfume commercial that then becomes a lesbian threesome."
Afterglow is a female-led and queer-run company.
Stasey described the all-inclusive space as very 'warm' and said that 'very kind and patient' women work alongside her.
"I want to become a better director and learn how to make things that look beautiful and feel good so that one day I can learn how to make things that are ugly and don't," she added.
Stasey is perhaps most well-known for roles in Sleepover Club, Neighbours, Please Like Me and Tomorrow When The War Began.
She is currently starring in the Prime Video series Class of '07, which also stars Emily Browning and Steph Tisdell.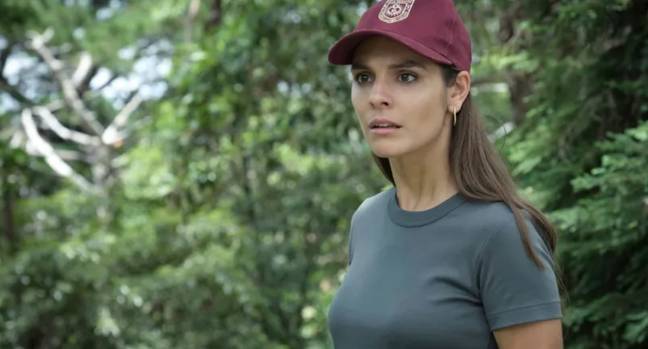 While this is the actor's first venture into the porn industry, Stasey also launched herself.com - a feminist website featuring nude portraits of women embracing their autonomy while being interviewed on a range of topics, including women's issues, relationships, sexuality and reproductive health.
Stasey previously opened up about the project in an interview with Women's Agenda, explaining that her aim is to support and create a safe space for women.
"My main focus has always been, continues to be, solidarity – the only relief I feel when faced with an issue is to know I'm not alone, knowing that women, ones whom I may never meet, are out there rooting for each other and persevering," she said.
"Nothing warms my heart more than sisterhood, and it is my sincerest hope that women who view the site, participate or even simply hear about it are encouraged to band together with love and compassion."