Lee Mack responds to huge NTA backlash after making crude Jill Scott joke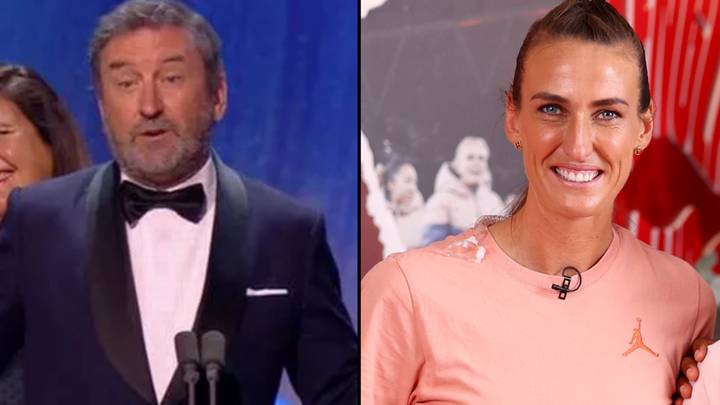 Lee Mack has responded to criticism for his Jill Scott joke at the NTAs.
The 55-year-old has been the face of the ITV show since it first began messing with our heads back in April 2022 and is also known for Would I Lie to You? and the viral moment earlier this year where he presided over a fake gameshow in which a contestant's head exploded.
The actual gong itself was presented in the category, which saw Mack up against the likes of The Chase: Celebrity Special, by football star Jill and fellow comedian Mo Gilligan.
And these 'gongs' had quite the well, um, interesting design.
This year's were shaped almost like an upside down tornado, thinning out at the tip where a big, shiny, ball sits.
Obviously, Mack wasn't going to take the award without any attempt at a joke, so as he received it he said the audience: "To receive a sex toy like this off Jill Scott is an absolute pleasure."
Unsurprisingly, the crowd of the TV world and guests burst into laughter.
But a load of people watching from home were not happy about it – and decided to make this rage known.
Users on social media hit out at Mack's 'painful' attempt to be funny, calling him 'rude'.
Mack pointed out to The Sun in response: "My job as a stand-up comedian is to take the mickey out of contestants."
He suggested that TV viewers might not get his humour, with comedians having more of a connection with live audiences.
The star added: "I decided never to be too cheesy with it. I just wanted to try to have a bit of a laugh.
"It's just like a gig, especially to 100 people. That was most of my Edinburgh Fringe shows back in the early days to 100 people.
"It's quite an intimate laugh and the one thing is the audience really can take it, you can take the mickey out of them. It's the people who are watching who get offended, not the audience. They're always OK about it."
During his acceptance speech, Mack also joked: "People often say to me, 'Why is The 1% Club so successful?'
"Well, people come up to me in the street and they say, 'Lee, do you know why I love the show?' and I try not to make eye contact I just keep my head down, walk on, so I haven't got a clue."