'Concerned citizen' shares astonishing cost breakdown of bill at Salt Bae's restaurant
A brave soul who decided to dine at one of Salt Bae's restaurants has shared the most astonishing cost breakdown we are yet to see.
Salt Bae's unique salt-sprinkling technique viral in 2017 and has helped him amass a reported net worth of $80 million.
His restaurant chain Nusr-Et has over 20 locations in Turkey, Greece, the US, the UK, the UAE, Qatar and Saudi Arabia.
Clearly, the Turkish butcher, born as Nusret Gökçe, has made quite the career for himself.
But once you find out that a Sprite at one of his restaurants costs $10, you can only guess how much the total bill racks up to.
'South Dallas Foodie' - a food blogger, who obviously loves food - took to X (Twitter) on Monday (13 November) to share a cost breakdown from what she calls 'a concerned citizen'.
Beware - this bill is the worst we have seen so far - and it is not for the faint hearted.
The bill comes from 2021 at Nusr-Et Miami for a table of six, and all I can say is I hope they had seriously deep pockets.
The breakdown is as follows:
2 × Meat Sushi - $60 ($30 each)
2 x Burrata - $60 ($30 each)
4 × #SaltBae Passion - $120 ($30 each)
2 x Voss Still - $20 ($10 each)
6 x Johnnie Walker Blue $552 ($92 each)
2 x Spaghetti - $160 ($80 each)
2 x French Fries - $30 ($15 each)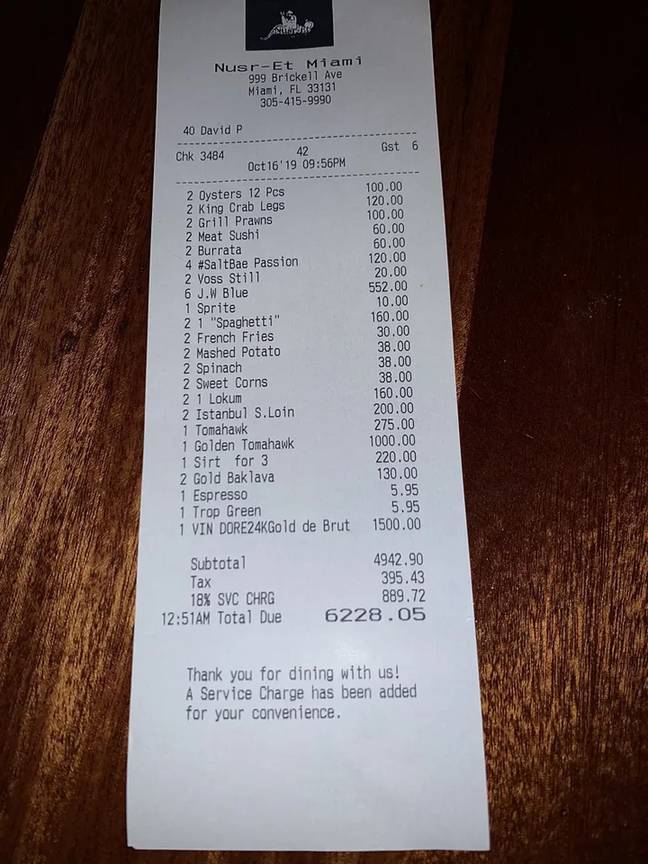 2 x Mashed Potatoes - $38 ($19 each)
2 x Spinach - $38 ($19 each)
2 x Sweet Corns - $38 ($19 each)
2 x 1 Lokum - $160 ($80 each)
2 × Istanbul Sirloin $200 ($100 each)
1 × Golden Tomahawk - $1,000
2 x Golden Baklava $130 ($65 each)
1 x Tropical Green - $5.95
1 x Vin Dore 24K Gold de Brut - $1,500
The total bill comes to a whopping $6,228.05 (£5,010).
Commenting on the bill, the food blogger said: "In what universe does spaghetti cost 80 bucks per serving????"
"Tomahawk steaks and JW Blue! Overpriced garbage for people who don't know any better," slammed one user.
Someone else added: "Although I've never met them I am positive that these people are a**holes."
A bill from the restaurant was shared on X and users were again, stunned by the total of £1,821.40.
The most expensive thing on there was a 'Giant Tomahawk' steak, costing £630.