Charles Bronson once chopped off his famous moustache and sent it to Tom Hardy
Charles Bronson once cut off his famous moustache and posted it to actor Tom Hardy.
The infamous prisoner, who had his bid for parole rejected earlier today, had his life turned into a movie - titled Bronson - back in 2008, with Hardy taking on the role of the titular criminal.
While preparing for the role, Hardy made several visits to Bronson and the pair struck up an unusual friendship of sorts, with the 70-year-old prisoner heaping praise on the actor for his dedication to the role.
In Bronson's diaries from 2008, he documented these visits, writing: "He has put on one and a half stone of muscles for the movie. He looks awesome and I'm so f***ing proud of him.
"You wouldn't want to meet him down a dark alley at 3am.
"Tom looks more like me than I look like me."
And this friendship led to Bronson trimming off his famous face fuzz and popping into an envelope and posted it out to Hardy's home. Can you imagine opening that?
"A big event today: I chopped off the most infamous 'tash in the UK, if not Europe – maybe the world," Bronson wrote.
"Yeah, my moustache has gone and it's going to end up going through Tom Hardy's letter box.
"Maybe the make-up artists on set can stick it on his top lip.
"If not, Tom can stick it in his pocket for luck.
"Then at least part of me will be on the film set!"
Bronson, who has legally changed his name to Charlie Salvador, has spent almost 50 years behind bars, and launched a bid for freedom early this year with a public parole hearing.
But today the board released its ruling following the two-day hearing, writing that Bronson lacks the 'skills to manage his risk of future violence'.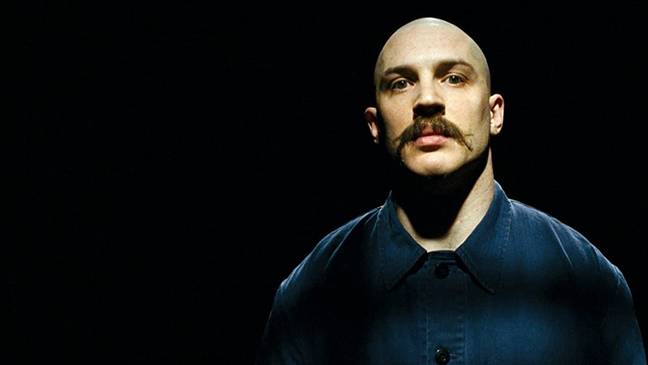 The parole board also decided that Bronson would not be moved to an open prison either.
In a document detailing the decision published on Thursday, the Parole Board said: "After considering the circumstances of his offending, the progress that Mr Salvador has made while in custody and the evidence presented at the hearings, the panel was not satisfied that Mr Salvador was suitable for release.
"Nor did the panel recommend to the Secretary of State that he should be transferred to an open prison."
Responding to the decision, Bronson's son George Bamby told the Press Association: "I would have loved Charlie to have been released but completely respect the decision of the Parole Board."