Ewan McGregor recalls embarrassing sex scene with Christian Bale
The movie Velvet Goldmine has been rising the ranks on Netflix, so now's a good time to look back at a rather embarrassing anecdote about the sex scene between its two main stars, Ewan McGregor and Christian Bale:
Back in 2011, the Trainspotting star took The Graham Norton Show couch, where he hilariously recounted the awkward moment that unfolded while shooting on a London rooftop for the 1998 film.
The topic of conversation came up after Norton suggested to McGregor that he's quite good at just getting on with sex scenes, to which he said that he finds them quite 'awkward' and that they're 'embarrassing to watch and to do'.
But he joked that he did the scene with Bale 'to the best of his ability', saying: "We were shooting this film Velvet Goldmine and he plays a journalist and I was playing a kind of Iggy Pop-type rock star.
"And we have a shag on top of a rooftop in Kings Cross."
When it came to getting the wide action shot, McGregor explained: "We heard 'action!' so we started to slowly [simulate sex].
"The film crew were on the other side. And then it went on and on... And then I just thought, I would have come by now.
"So I went round to the non-camera side of his ear and went, 'I think I would have come by now. I'm going to have a look.'
"And I looked over and they were packing up the cameras! They must have gone 'cut' really quietly."
He added: "I think they thought it was a sensitive thing, they should just leave us to it. There's nothing wrong with [screaming] 'cut!'"
It's safe to say the audience went wild over the hilarious story, as did Norton who was chuckling the whole way through.
Plenty of viewers commented on the interview at the time, with one suggesting: "Christian Bale and Ewan McGregor should do an interview together. Imagine the awkwardness."
Another wrote: "I just watched Velvet Goldmine just because of this and I have to say, I was not disappointed."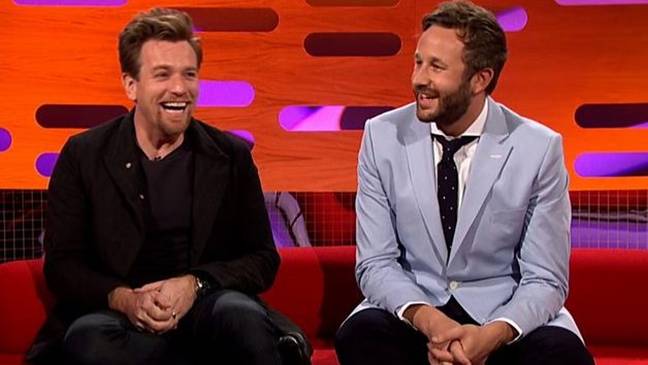 Speaking of which, Velvet Goldmine was recently added to Netflix and a whole new audience is discovering it for the first time.
One of those who only just had the pleasure of seeing it said on Twitter: "I want to be in a theatre full of people in glam rock get ups, getting horny for Ewan McGregor f***ing Christian Bale."
Well, that's one way of putting it - if you haven't seen the film or you want to relive this magical moment, you know where to find it.