Daniel Radcliffe reflected on Sir Michael Gambon's hilarious acting method just before their scenes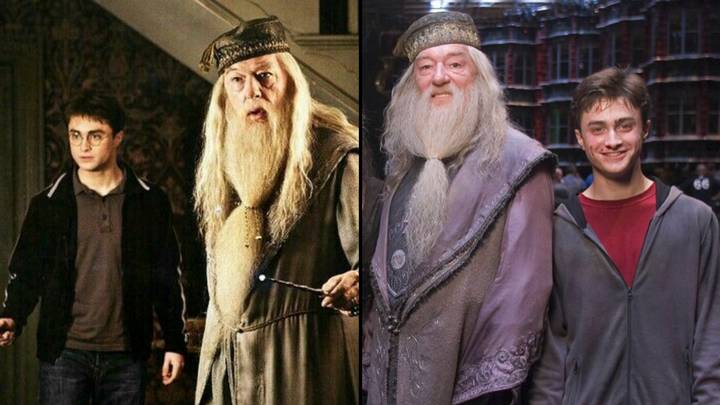 Sir Michael Gambon will forever be known to millions of fans around the world as Dumbledore.
Following the death of Richard Harris, the British actor took over the reins as the aged wizard in the film adaptations of Harry Potter.
But sadly, his family revealed today (28 September) that he had passed away after a short illness, aged 82.
A statement on behalf of his wife Lady Gambon and son Fergus Gambon, issued by publicist Clair Dobbs, said: "We are devastated to announce the loss of Sir Michael Gambon.
"Beloved husband and father, Michael died peacefully in hospital with his wife Anne and son Fergus at his bedside, following a bout of pneumonia.
"Michael was 82. We ask that you respect our privacy at this painful time and thank you for your messages of support and love."
Since the news of his death was announced, fans have been sharing their memories of him and sending condolences to his family.
One video that has started doing the rounds again on social media is from an interview with Radcliffe from a few years ago.
In the heartwarming clip, the young actor discusses working with Gambon on the Harry Potter movies. Radcliffe said: "I don't think I was thinking particularly deeply about the characters or acting when I was that age.
"The people I really admired were the people that didn't mystify acting too much, who were just able to come to set and do it. Imelda Staunton, David Thewlis, Gary Oldman, Michael Gambon; they're all people that can be very normal and chatting away, and then can just turn it on and 'action.'"
But despite being such an icon of British cinema, Radcliffe revealed that Gambon had a devious side to him and would often try and make him mess up his takes.
Radcliffe told the outlet: "Michael Gambon could do that to a frustrating degree. He learned that he could, when I was a teenager, he could make me laugh very, very easily.
"Making me laugh right up until the word 'action,' at which point I was pretty much unable to recover and he could just snap into a performance with inherent gravitas and charm. Yeah. He's awesome."
Born in Dublin in 1940, Gambon came up through the Royal National Theatre with fellow acting legend, Laurence Olivier, and went on to win many awards including three Olivier Awards, four BAFTAs, and two Screen Actors Guild Awards.
In 1999, he received a knighthood from Queen Elizabeth II as recognition of his services to acting over the decades.
Whilst he starred in many Hollywood films, Gambon also enjoyed working with Shakespeare, appearing in many productions of his plays, including Othello, Macbeth, Hamlet, and Coriolanus.