Kevin Hart Gifts Chris Rock A Goat On Stage And Names It 'Will Smith'
Kevin Hart surprised comedian Chris Rock with a goat named Will Smith during the pair's recent Rock Hart: Only Headliners Allowed show at New York's Madison Square Garden. Watch the moment below:
As fans know, Rock was involved in an altercation with Will Smith at March's Oscars comedy. The dramatic on-stage incident saw Smith storm up to Rock and slap him in the face, much to the surprise of everyone in the venue.
It came after Rock made a crude joke about Jada Pinkett Smith's shaven head, which is a result of alopecia.
Months following the initial furore and a public apology from Smith, Hart couldn't help but poke fun at the incident at their co-headlining show while joined on stage by fellow comedian Dave Chappelle.
In a clip, which has emerged on TikTok, the Fatherhood star is seen holding the goat's lead and says: "What the f**k did you just say?"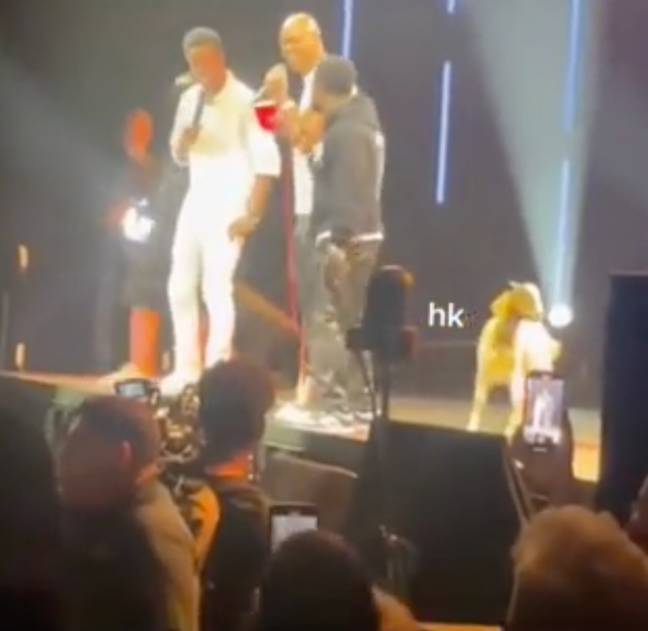 "Don't act like I'm crazy, you brought the goat here. This n***** [the goat] is confused with the f**k is happening. What you gonna name this goat Chris?" Chappelle asked, to which Hart, not missing a beat, responded: "The name is Will Smith."
The moment left the audience howling with laughter, leading Hart to ask the crowd deadpan: "What? What did I say?"
The video which has been liked over 28,000 times received a flood of comments from users who claimed it was 'the best joke ever'.
One wrote: "That's a best joke ever," while another added: "That's hilarious".
A third commented: "Freaking hilarious".
On Monday (25 July), Hart recalled surprising Rock with the goat live on stage on during an appearance on The Tonight Show with Jimmy Fallon.
"Chris is a mentor, friend, inspiration," Hart told Fallon.
"He's a large part of the reason that I am where I am today in my career just from his advice, his insight, et cetera, and he's my G.O.A.T.
"He's my guy, and I wanted him to feel that."
After hitting up his 'goat guy' to help execute the prank, Hart admitted he didn't quite anticipate the animal acting up.
He added: "In my mind, I thought the goat's gonna come out and do a tight 2 minutes.
"Instead, he s**t on Chris's shoes. He destroyed Chris's shoes. Chris had on some white moon boots, and the goat got him."