Cardi B And Offset Gift Their Four-Year-Old Daughter $50,000 In Cash For Her Birthday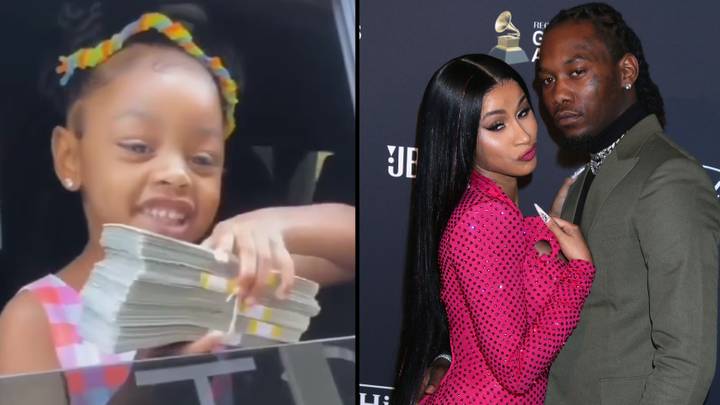 Cardi B and her husband Offset have showered their four-year-old daughter with yet another lavish birthday surprise: $50,000 ($AUD 74,000, £42,000) in cash.
Kulture was captured on camera chilling in the back of a black SUV while her loving dad handed her the massive wads of cash.
In the clip, the doting dad can be heard asking his daughter what she is holding.
"A ticket," Kulture replied, with the massive stack of cash clutched in her tiny hands.
Her dad seized the chance to have a teaching moment with his child.
"It's a ticket? A ticket is a million, girl," Offset said.
So yeah, a teaching moment that most of us poor folk will probably never have with our own kids.
Kulture turned four on July 10 with the family marking the occasion with a trip to Candytopia, an interactive kid's museum where everything is made out of - you guessed it - candy.
This isn't the first time Kultute's mum and dad have made it rain for her birthday.
The celeb parents copped criticism when Offset gifted Kulture an $8,000 Birkin ($AUD 11,800, £6,700) bag for her second birthday.
Many on social media questioned why on earth a toddler needed an exclusive designer handbag, with Cardi B lashing out over the criticisms levied against her and her family.
"Celebrities buy their kids jewellery and designer s***, people be like, 'kids don't care about that. They only care about toys and candy'," she said.
"Yeah, they only care about toys and candy but the thing is the kids also go outside. You know what I'm saying? Kids go to restaurants, kids go to fancy places, celebrity kids, they go do red carpets.
"And if I'm fly and Daddy's fly, then so is the kid."
She ended the explanation: "So I'm not mad that Daddy bought baby a Birkin. She's gonna match Mommy."
The then-three-year-old received a $48,000 ($AUD 71,000, £34,000) customised Birkin bag featuring a crystal rainbow.
The 'WAP' rapper shared pictures of her and little Kulture on Instagram alongside the caption: "Me and my best friend for life."
But here's the kicker: Kulture had spotted the bag Claire's Accessories, a store aimed at tweens and young girls, and Cardi B had it remade by Birkin.
So she could have spent a tenner instead of nearly 'a 50', as Offset called it. But you do you, Cardi.