Johnny Depp Says He Will Never Work On Another Pirates Of The Caribbean Movie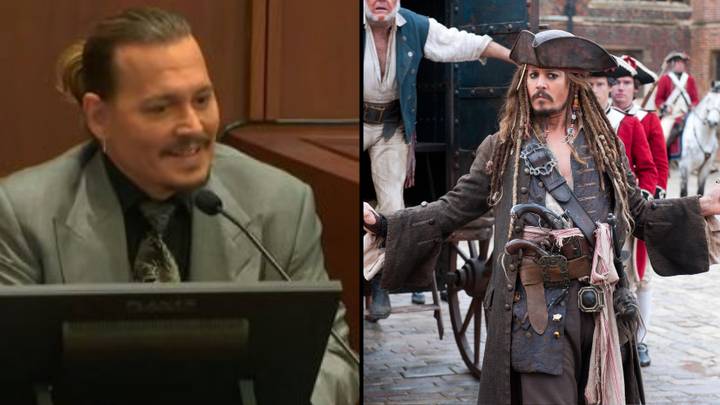 Johnny Depp has confirmed that he has no intentions of working with Disney again for another Pirates of the Caribbean movie.
During cross-examination at his defamation case against Amber Heard, his ex-wife's attorney, Ben Rottenborn, dived into Depp's feelings about the mega-film franchise.
Depp's $50 million lawsuit was launched after Heard wrote an op-ed for The Washington Post, where she claimed she was a survivor of domestic abuse.
She never named Depp in the article, however the fallout for the 58-year-old was fairly significant and he believes his career was ruined as a result of the comments.
However, Heard's lawyer has questioned the timing of the op-ed against what was potentially already happening at Disney.
Rottenborn asked the Murder on the Orient Express star about a Daily Mail article from October 2018 that suggested Disney was going to dump Depp from the sixth instalment of The Pirates of the Caribbean series, according to Variety.
"I wasn't aware of that, but it doesn't surprise me," Depp testified. "Two years had gone by of constant worldwide talk about me being this wife beater. So I'm sure that Disney was trying to cut ties to be safe.
"The #MeToo movement was in full swing at that point."
Rottenborn then alleged that even without Heard's op-ed, Depp wasn't really keen on being in another Pirates film anyway.
"The fact is, Mr. Depp, if Disney came to you with $300 million and a million alpacas, nothing on this earth would get you to go back and work with Disney on a Pirates of the Caribbean film? Correct?" he asked.
Depp replied: "That is true, Mr. Rottenborn."
Heard's defence appears to be trying to distinguish whether the Aquaman star's Washington Post article affected his career once it was published.
Depp insists that it did, telling the court: "I would be a real simpleton to not think that there was an effect on my career based on Ms. Heard's words, whether they mentioned my name or not."
But he admitted that his image and reputation was damaged when Heard first accused him of physical abuse, which came shortly after they filed for divorce in May 2016.
Depp said: "Once that happened, I lost then. No matter the outcome of this trial, I'll carry that for the rest of my days.
"I'm suing her over defamation and the various falsities that she used to bring my life to an end."
He also added that even though the Daily Mail article suggested he might be pulled from Pirates of the Caribbean 6, it appeared Disney still wanted to rake in the revenue from his character.
"They didn't remove my character from the rides," he explained to the court.
"They didn't stop selling dolls of Captain Jack Sparrow. They didn't stop selling anything. They just didn't want there to be something trailing behind me that they'd find."
After Heard's article was published, Disney production chief Sean Bailey confirmed to The Hollywood Reporter that Depp was no longer a part of the franchise.
He said: "We want to bring in a new energy and vitality. I love the [Pirates] movies, but part of the reason (writers) Paul (Wernick) and Rhett (Reese) are so interesting is that we want to give it a kick in the pants.
"And that's what I've tasked them with."
Depp also revealed yesterday (April 20) while taking the stand that he hasn't seen the first The Pirates of the Caribbean movie, despite being the star of the film.
He said: "I didn't see it ... But the film did pretty well, apparently.
"And they wanted to keep going, making more. And I was fine to do that."
Depp has insisted that he never assaulted Heard during their relationship and called her allegations against him 'heinous'
During his testimony in the Fairfax County courthouse in Virginia, the actor said: "Never did I myself reach the point of striking Ms. Heard in any way nor have I ever struck any woman in my life."
While speaking about the actress, Depp also added: "One day you're Cinderella so to speak and then in zero point six seconds you're Quasimodo."
The trial, which began on April 11 and is being presented to 11 jurors, is expected to conclude in May.