Megan Fox addresses Machine Gun Kelly cheating rumours with his guitarist
Megan Fox has publicly showed her support for Machine Gun Kelly's guitarist, Sophie Lloyd, after she got caught up in rumours circulating about the famous couple.
The internet being the internet, it wasn't long before completely unfounded claims began to spread and Lloyd found herself caught in the crossfire.
The guitarist, who accompanied Kelly on his recent Mainstream Sellout tour, was accused by fans of having a relationship with the singer while he was engaged to Fox.
Lloyd denied the claims, with a statement from her management describing her as a 'professional, accomplished musician who has been needlessly dragged into the media', but the insider view on the matter wasn't enough to stop the rumour mill.
When one Instagram user sought to get to the bottom of the mystery by asking Fox whether Kelly 'got with Sophie', Fox hit back: "Maybe I got with Sophie."
Though intended as a joke, the comment didn't help stop the rumours.
As speculation continued, Fox returned to Instagram on Sunday (19 February) to assure her followers there had been 'no third party interference... of any kind' in her and Kelly's relationship.
She also took it upon herself to reach out to Lloyd publicly, making it impossible for trolls to claim bad blood between the pair.
In a comment under a post of Lloyd's album artwork, Fox wrote: "How me making a joke in order to absolve this girl of a hurtful accusation somehow turned into a confirmation of it - I will never understand. Why are people so…so dumb."
Fox went on to address Sophie directly and give her some advice as someone who's spent years in the spotlight.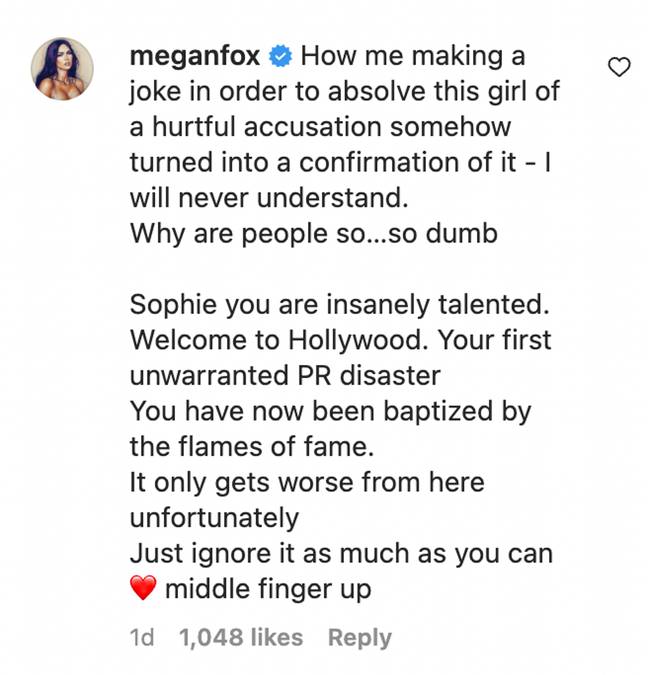 "Sophie you are insanely talented. Welcome to Hollywood," she wrote. "Your first unwarranted PR disaster. You have now been baptized by the flames of fame. It only gets worse from here unfortunately. Just ignore it as much as you can [love heart] middle finger up."
Lloyd showed her appreciation for Fox's comment as she responded on Instagram, writing: "'The internet is so wild! Sending so much love @meganfox [sic]."
Though Fox has removed all trace of Kelly from her own Instagram account, the actor remains featured in images posted to Kelly's feed.