Michael Jackson said he kept the footage of him sleeping in bed with Macaulay and Kieran Culkin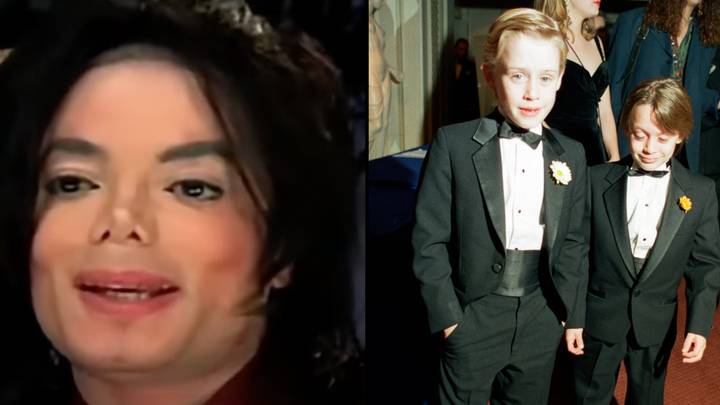 Michael Jackson once claimed to have footage of himself sharing a bed with Macauley and Kieran Culkin - but insisted it was 'very loving' when questioned about it.
The late pop superstar was known for his extraordinary talent, but also attracted negative press due to his close relationships with children.
In a clip from a 2003 documentary 'Living with Michael Jackson', the Billie Jean singer was being questioned on his closeness to young boys.
Of particular concern for interviewer Martin Bashir was Jackson's openness about sharing his bed with his young friends.
Jackson insisted there was nothing sexual in nature about his behaviour and pointed to his friendships with child stars, Macaulay and Kieran Culkin.
Jackson said: "I've slept in the bed with many children. I'd sleep in the bed with all of them.
"When Macaulay Culkin [was] little, Kieran Culkin would sleep on this side, Macaulay Culkin's on this side.
"His sister's in there. We'd all just jam in the bed.
"And we'd wake up at dawn and go in the hot air balloon.
"We have the footage. I have all that footage."
At this point, Bashir interjects and asks the King of Pop, "But is that right, Michael?"
Jackson responds: "It's very right, it's very loving. It's what the world needs now - more love."
When Bashir replied: "The world needs a man who's 44 sleeping in a bed with children?", Jackson insisted that the British journalist was misinterpreting what he said.
Jackson explained: "What's wrong with sharing the love?
"You don't sleep with your kids or some other kid who needs love?"
Bashir shot back: "No I don't."
As Bashir is giving his opinion, Jackson tried interjecting: "I would. You've never been where I've been, mentally."
When the documentary was first aired in 2003, it was hit with a wave of controversy as audiences grew concerned about Jackson's conduct around children.
At the time of the interview, Jackson had already been accused of improper behaviour with a minor.
Jackson was first accused of child sexual abuse in 1993 before he settled out of court with the accuser's family.
He was then taken to court in 2005 by a second accuser, but was found 'Not Guilty' on all thirteen charges put against him.
Jackson later died at the age of 50 whilst preparing for a comeback tour in 2009.
Since his death, Jackson has been accused by two more men of childhood sexual abuse, which was presented in the 2019 documentary Leaving Neverland.
Neither of the Culkin brothers have ever accused Jackson of any wrongdoing.
Macaulay defended his longtime friend at the time and said: "He never did anything to me. I never saw him do anything."