'Mr Blue Sky' by Electric Light Orchestra is one of those feel-good songs that's played so often, everyone knows the words - or so you might think!
One of the song's final lyrics has actually been misheard by fans for decades, and many are just realising it now! See if you can hear it:
The hit tune, which has previously been voted the 'happiest song ever', has had people cheerfully singing along since it was first released back in 1977.
But in the final moments of the song's outro - and what a banger of an outro, by the way - a sort of robotic voice can be heard singing what sounds like 'Mr Blue Sky-y', but it's actually giving listeners an instruction.
It's an instruction that listeners likely missed during their first few listens - partly because they're so elated after listening to such a cheerful tune, and partly because the voice is so distorted that it's a little hard to make out.
So, what's that little voice actually saying, if not the name of the song?
Prepare to be mind-blown, it actually says: "Please turn me over."
It might seem like a strange way to end a song, but when 'Mr Blue Sky' was first released by E.L.O, it was on vinyl.
Anyway, 'Mr Blue Sky' was the final song on the first side of the band's Out of the Blue album, so if fans wanted to listen to the other tracks, they'd need to turn over the record.
This lyric had been up for debate for years, so don't be too hard on yourself if you didn't spot it.
It wasn't really until 2012, when co-founder of the rock band Jeff Lynne appeared on BBC's The One Show, that fans finally got some clarity.
"It actually says 'Please turn me over', because it was the end of that side of the album," he told presenters, ending years of disputes among friends and families.
That being said, some fans are still only finding out about this misheard lyric now, and some are struggling to come to terms with it.
"My whole life is a lie," one rather dramatic fan commented after making the shocking discovery all these years later.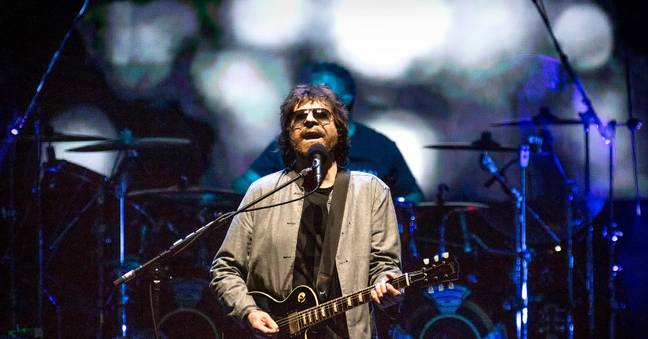 "I always thought it was 'Mr Blue Sky-ie'," admitted a second.
And a third, rather smug viewer shared: "Every time this song plays I tell someone in the room this. I used to think it say 'Mr Blue Sky-y and figured it out when I got the record."
And now you, too, can be that smug friend who tells everyone in the room this fact next time you hear 'Mr Blue Sky' on the radio.