Eminem makes history as he becomes the '10th greatest selling artist of all time'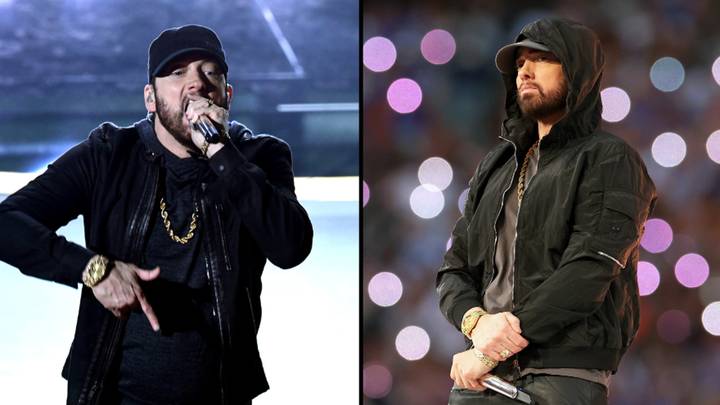 The legendary musician has reportedly cracked the Top 10 list of highest-selling artists of all time.
Chart Masters provides the 'most accurate data within the music industry' and uses two systems to determine their rankings.
First, they have a CSPC (commensurate sales to popularity concept) method, and secondly, they have an ASR (artist success rate) model.
These are combined along with studio albums, LPs, physical units sold, digital singles sold, and streams to create their highest-selling artists of all time list.
And Em has finally cracked the top 10.
He was sitting in 11th, behind Led Zeppelin, however he managed to just overcome the band recently with 207,262,000 sales.
The Beatles comfortably sits on top of the throne with 423,619,000 sales, while Michael Jackson comes in second with 338 million, followed by Elvis Presley (321 million), Queen (279 million), and Madonna (248 million).
The rest of the top 10 is comprised of The Rolling Stones, Pink Floyd, Frank Sinatra, and Elton John.
You'll note that Eminem is the only modern artist to feature in the list and also the only rapper amongst the group.
He's well clear of any of his rapping competitors.
Drake comes in at number 41, Kanye West is at 61, and 2Pac is 73rd.
Eminem has dropped 11 studio albums during his glittering career, as well as three collaborative records.
He was the best-selling musical artist from 2000 to 2009 in the US, according to Nielsen SoundScan and was also the bestselling male music artist in the United States of the 2010s.
Eminem has the most diamond certifications in hip hop with six and was the most certified artist in RIAA history last year.
Given the controversial and hard-hitting lyrics, it's no surprise that the US rapper has chosen to distance himself from 'Cleanin' Out My Closet'.
If you are unfamiliar with the 2002 diss track, the lyrics centre around Eminem's often strained relationship with his mum Debbie.
During the song, he calls her as 'selfish b***h' and says that he hopes she will 'burn in hell'.
He goes on to accuse his mum of 'poppin prescription pills' and vowing never to let her see granddaughter Hailie.
However, the rapper seems to have had a change of heart and even made an apology track decades later called 'Headlights' - in which he reveals why he abandoned his earlier work.