Archaeologist left coughing up blood and hallucinating after opening ancient Egyptian tomb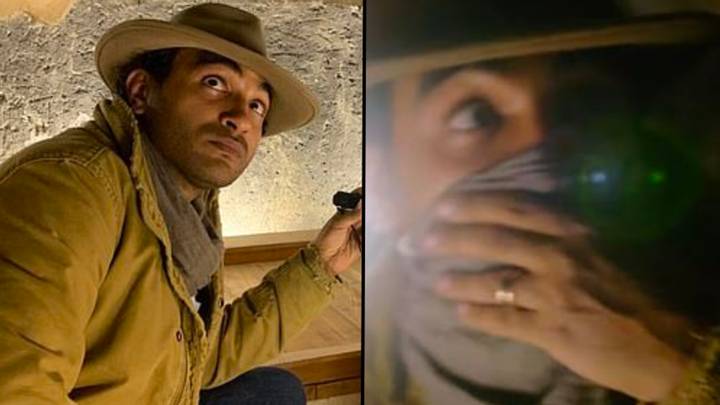 An archaeologist was once left 'coughing up blood' and 'hallucinating' after entering an unopened ancient Egyptian tomb.
Back in the 1920s, legend has it that members of Howard Carter's research team died shortly after discovering and opening Tutankhamun's tomb.
While some believe their deaths were a result of hazardous materials being released, others think that the tomb is cursed.
Well, Egyptologist Ramy Romany fully believes that the 'Curse of the Pharaohs' is real.
And the Egyptian-born documentarian - who lives in Los Angeles - has lived to tell the story.
While shooting for the Discovery Channel's Mummies Unwrapped, Romany was trying to identify a mummy that he believed could be a figure from the Bible - more specifically, Akhenaten - an ancient Egyptian pharaoh.
"No one goes there. I went there because I was trying to know more about Akhenaten," Romany told The Jordan Harbinger Show.
"I went inside that tomb and that tomb literally has not been opened for 600 years or so, they know all the guards that have been there never opened it."
Romany says he and the guards heard all the snakes 'rattling and coming out' after knocking on the stone.
"We go inside and start filming and I go under that tomb and I find things, and I'm breathing really heavy and everything, and there's bats inside, and the smell is so horrible and I left that tomb and I did not feel well," he explained.
"There's that ammonia bat urine smell, there's been snakes in there, along with just these very strange smells all going in and your body is telling you 'stop breathing this is not good'.
"I'm a host on the Discovery Channel, I'm yelling at the camera and being very excited and I'm breathing all this crap in."
Podcast host Harbinger added: "Literally crap probably, snake and bat crap," but Romany insisted it was 'maybe the Curse of the Mummy mixed in'.
The following day, he was 'in horrible shape in bed'.
"I had fevers that went up to 107," he said.
Romany thought was going to die, adding: "We had doctors coming in, I was coughing blood.
"I was hallucinating and my wife was really, really scared for me and I don't know how I survived.
"None of the doctors really knew what I had, they put me on a bunch of antibiotics and I explained to them all where I was and they said 'Well bats, snakes, dust is not a very good combination for whatever it is, it could be anything we have not seen this combination of symptoms but hopefully these antibiotics work' and they worked.
"I'm alive, I'm here today," he said.