*WARNING: CONTAINS SPOILERS*
Ricky Gervais has explained how he decided to end After Life. Watch here:
The show follows the 60-year-old as he takes on the role of Tony, a reporter at a free paper struggling to find a purpose in life following the passing of his wife.
Across the course of the first two seasons, viewers have been moved by his battle with grief and attempts to move on from his tragic loss, and fans were eager to see how things would pan out for the protagonist.
The finale left countless viewers overwhelmed, while many others were left wondering what it all meant - something Gervais foresaw.
"I'm sure I'm gonna have to explain it on social media for the next 10 years," he told LADbible, prior to the show's release.
However you interpreted the conclusion, it clearly wasn't a picture perfect happy ending, and some viewers thought the closing scene, in which Tony fades from view, might indicate that he had taken his life.
If you were one of these people, you'll be pleased to learn that Gervais - the show's writer, director and star - assured us that this was not the intended interpretation.
Asked whether he ever had any intention of ending the show with Tony and Emma (Ashley Jensen) getting together, he said: "No, I didn't want that for lots of reasons. I think it would be too obvious. I think it would undermine all the things that we saw him and Lisa go through, in a way.
"I wanted him to be satisfied with his life, that's what I wanted. I also had no intention of a terrible ending for a few reasons, but I wanted it to be real and satisfying, but not perfect, not chocolate box.
"Even the relationship with Lisa, I didn't want it to be a coffee advert. I wanted it to be goofy and drunk and fun.
"They were friends and soulmates, and they had the best life."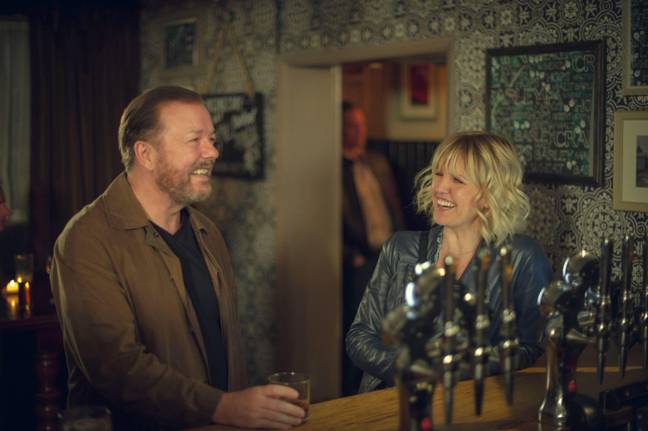 He continued: "It is about finding something from beginning to end. One - it's a love story. But two, it asks the big question - when you lose everything is life still worth living?
"Again, without spoilers, I say yes."
Succinctly summarising the ending, he added: "I think it's pretty perfect because, with no spoilers, the theme is - life goes on. It's just that, it's just - life goes on."
So if the show's ending left you in pieces, that's perfectly understandable; but remember, the overall message is one of positivity and hope.
UOKM8? is a campaign by LADbible, featuring films and stories that provide advice and inspiration on mental health. Explore more here and don't suffer in silence. Let's talk mental health.