Roman Kemp Walks Off After Dad Makes X-Rated Comment During Celebrity Gogglebox
Roman Kemp walked away from his dad in disgust after comments he made during an episode of Celebrity Gogglebox. Check out the comments and his reaction in the video below.
Of course, it is the duty of every parent to be as embarrassing as possible to their children, but few get the opportunity to do so on an incredibly popular Channel 4 show in front of an audience of millions.
This opportunity wasn't one that former Spandau Ballet singer and actor Martin Kemp was going to miss.
He and his radio DJ son Roman are popular contributors on the celebrity 'people-on-the-telly-watching-people-watch-telly' programme, and this week things got quite cringeworthy for the younger Kemp.
They were watching a Netflix show called How To Build A Sex Room, which – as you can probably imagine – isn't the most subtle show in the world.
As the title suggests, the show sees interior designer Melanie Rose helping people to build a room in their house dedicated to getting it on.
The programme clearly got Martin to wondering, as he said to his son: "I don't want a room that's just dedicated to sex.
"Why can't you have sex everywhere?"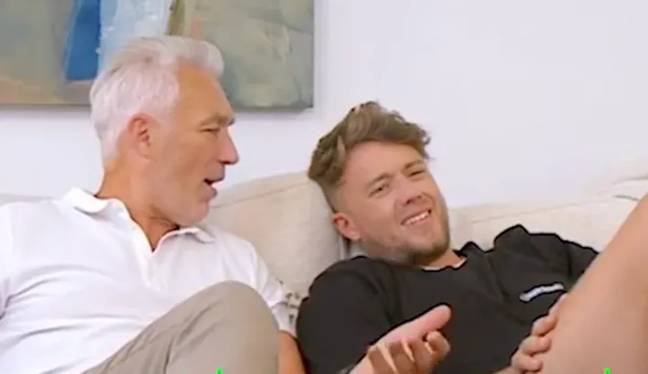 "Oh, gross!" Roman responded.
Martin persisted: "But you do! Me and mum, everywhere!"
We couldn't possibly comment on how chuffed Martin's wife Shirley is with that admission.
Roman got up from the sofa, stating: "Oh, that's disgusting."
Still, Martin went on: "No, we do. Everywhere around the house,
"There's not like a special room."
Roman hit back: "No [because] now I'm sitting on the sofa,"
However, it's all in good fun, and Roman has recently shared his reasoning behind appearing on the show with his dad.
He wants to make a few memories with his dad that he can then show to his children and grandchildren, so they can see the good relationship they share.
Speaking to Metro, the younger Kemp said: "The reason I chose Gogglebox is that I know that when I'm older and when he's not here anymore, I can say to my kids and my grandkids, 'This is the relationship I had with my dad'.
Of course, whether he'll be showing them this particular episode is anyone's guess, but it could spark some awkward conversations with his future offspring.
Furthermore, a recent episode in which the family members were made to watch 50 Shades of Grey is probably out as well.
No one should be made to watch that with their parents.