Sidemen Charity Match 2022: Tickets, lineup, date and how to stream for free
YouTuber group Sidemen are returning with their tradition of charity football friendlies this month, with millions of subscribers expected to tune into the match both online and in person.
The YouTube collective - which consists of internet personalities such as KSI, Behzinga, Vikkstar123, Zerkaa, Miniminter - previously held three charity matches between 2016 and 2018, where members of the group went head to head against other internet stars.
After taking a break, the group recently confirmed the return of their match for 2022, which aims to raise money for charity through a game of friendly sports rivalry between the teams.
Here's everything you need to know ahead of the Sidemen 2022 charity game, including match date, kick-off time, the line-up and how you can watch all the action.
When is the Sidemen charity match 2022?
The Sidemen charity match is set to take place on Saturday 24th September 2022.
Where is it being held?
The game is being held at the Valley Stadium in South London. The 27,000 capacity venue is also where the group held their last two matches in 2017 and 2018.
What is the kick-off time?
The kick off time for the match is currently scheduled for 3pm UK time.
What's the line-up for the Sidemen charity match?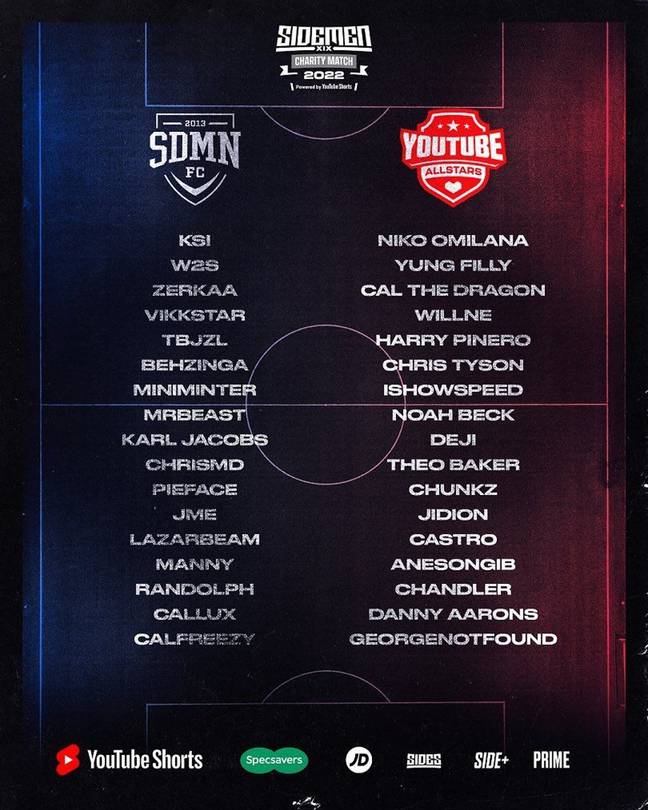 Sidemen have been busy slowly revealing who they will be playing against during the match, with the full team line-up starting to take shape.
Players confirmed for the game include:
AnEsonGib
Cal The Dragon
Calfreezy
Callux
Castro1021
Chandler Hallow
Chris
Chris Dixon
Chunkz
Danny Aarons
GeorgeNotFound
Harry Pinero
IShowSpeed
JiDion
JME
Karl Jacobs
Lazarbeam
Manny
MrBeast
Noah Beck
PieFace
Randolph
Theo Baker
WillNe
YungFilly
Who are the team managers?
Managing team Sidemen will be F2 Freestylers star Billy Wingrove, while none other than Mark Goldbridge will be in charge of the YouTube All Stars.
Can I buy tickets to the game?
In-person tickets were originally being sold through the Sidemen website, but sadly they've sold out. Tickets originally went on sale on 7th of August but sold out in less than 24 hours. Tickets for the friendly started at £10 for an adult ticket and £7 for a child.
Where can I stream the match?
Although tickets have sold out, fans however will be able to stream the game online. In previous years, this has been for free on the group's YouTube channel, however it's not been confirmed yet how streaming will take place this year. With the match just weeks away however, it's likely live streaming info will be released very soon.