Simon Leviev Returns To Instagram With Message To His Followers
Featured Image Credit: Instagram/simon_leviev_official
Simon Leviev has made a grand return to Instagram and shared a message with his followers. You can watch it here:
The conman, who was the focus of a new Netflix documentary Tinder Swindler, made a comeback with an Instagram story where he wished viewers a 'Happy Valentines's Day'.
He then went on to say: "I want to clarify a few things. I don't have any social media accounts but this one. No Tinder, no Instagram, no Facebook, no TikTok - nothing.
"Only this one... anything else, it's fake."
Well there's that cleared up.
As well as the message on his story, he also shared a picture of himself sitting in the doorway of what looks like a flash car.
With comments from people set to limited, Leviev - whose real name is actually Shimon Hayut - captioned the post telling people he's been having a tough time.
He told his 258,000 followers: "The past few days was not easy for me. Thank you all for your love and support. I will keep fighting as I always did."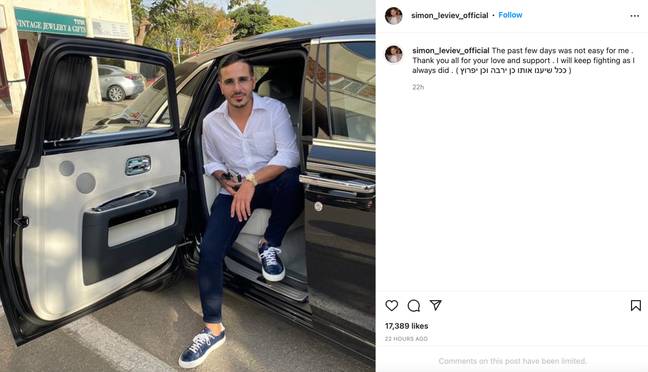 The Tinder Swindler tells the story of the women - Cecilie Fjellhøy, Pernilla Sjoholm, and Ayleen Charlotte - who were conned by the pretend playboy.
After meeting the women on dating app Tinder, he span a web of lies which resulted in them each handing over hundreds of thousands of pounds to him.
It's revealed in the documentary - which has been created by the makers of Don't F*** With Cats - that Leviev was eventually caught with a fake passport in Greece in 2019.
He was extradited to Israel and sentenced to 15 months in prison for theft, fraud, and forgery of documents but got out after five months on good behaviour.
After people learned of this, they took to social media to vent their frustration at him not serving a longer sentence, and never being prosecuted for allegedly defrauding Ms Fjellhøy out of $200,000 (£147,000).
One disgruntled user wrote: "No justice for the victims of the Tinder Swindler? It should be a global effort to put him in prison. How terrible."
Another added: "I hope the women who got swindled by the Tinder Swindler get justice. The man is pure evil and it sucks he only got a slap on the wrist."
The Tinder Swindler is available to watch on Netflix now.