People think Christian Bale and Gillian Anderson have been outshone in latest movie The Pale Blue Eye
Viewers think Christian Bale and Gillian Anderson have been upstaged in their latest movie. Take a look at the eerie trailer for The Pale Blue Eye:
The new Netflix movie follows veteran detective, Augustus Landor (Christian Bale), who investigates a series of grisly murders with the help of a young cadet who will eventually go on to become the world-famous author Edgar Allan Poe.
Bale is joined by the likes of, Gillian Anderson, Lucy Boynton, Charlotte Gainsbourg, Harry Lawtey, Toby Jones, and Robert Duvall.
Despite the star-studded cast, some people think the actor who plays Allan Poe outshone everyone else on set.
Known for his roles in five Harry Potter films and The Queen's Gambit - Harry Melling, 33, has stole the show with his stunning performance of Poe, who is considered to be the inventor of the detective fiction genre.
Melling's portrayal has been given a '10/10' by some viewers who can't speak highly enough of the actor.
"The Pale Blue Eye On Netflix, is fantastic. Guy who plays Poe is a star," one commented.
A second added: "Poe really is the star of the show in The Pale Blue Eye. I kin this freak so much."
"Congratulations @NetflixFilm, The Pale Blue Eye is absolutely mesmerizing!" a third person wrote.
"And shockingly, I have Harry Melling ahead on the judges acting scorecard.
"To go toe to toe with Christian Bale is astounding. I was as locked in as ever, for 2hr 8min!"
Another added: "The Pale Blue Eye - phenomenal watch. Harry Melling 10/10."
"Absolutely spectacular performance by Harry Melling as Edgar Allan Poe in The Pale Blue Eye," someone else echoed.
Director Scott Cooper says he's always wanted to display the work of Poe from his own perspective.
"Because my father taught English and there was lots of literature strewn about our house, Poe came into my world at a young age, and I was just fascinated with his works," Cooper told Tudum.
"And my father, after I directed Crazy Heart, he said, 'There's a novel that you should read; it's The Pale Blue Eye and it has Edgar Allan Poe as a character at the centre of an investigation'."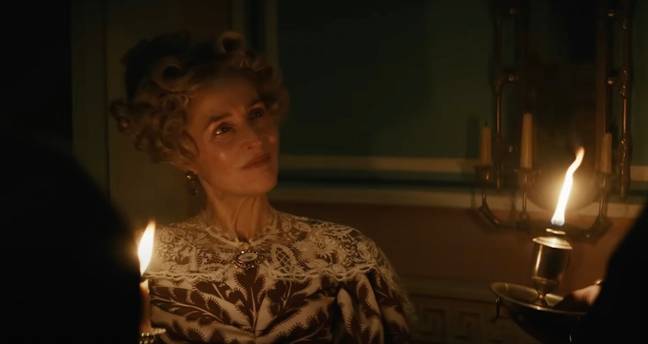 The official synopsis for The Pale Blue Eye reads: "West Point, 1830.
"A world-weary detective is hired to discreetly investigate the gruesome murder of a cadet.
"Stymied by the cadets' code of silence, he enlists one of their own to help unravel the case — a young man the world would come to know as Edgar Allan Poe."
The Pale Blue Eye has been released in select theatres in December and is available to watch on Netflix now.