Tim Allen Gives His Brutally Honest Thoughts On The New Buzz Lightyear Movie
Tim Allen has offered up his brutally honest thoughts on Lightyear, a new spin-off movie following the character that he once voiced in the Toy Story franchise.
The sci-fi action adventure flick is billed as 'the definitive origin story of Buzz Lightyear', following the 'legendary Space Ranger after he's marooned on a hostile planet 4.2 million light-years from Earth alongside his commander and their crew'.
"As Buzz tries to find a way back home through space and time, he's joined by a group of ambitious recruits and his charming robot companion cat, Sox," the film's synopsis says.
"Complicating matters and threatening the mission is the arrival of Zurg, an imposing presence with an army of ruthless robots and a mysterious agenda."
While the movie appears to be a hit with critics and moviegoers – having racked up a respectable 85 percent audience score on Rotten Tomatoes, where it's also hit 75 percent on the Tomatometer – it seems not everyone is on board with the concept.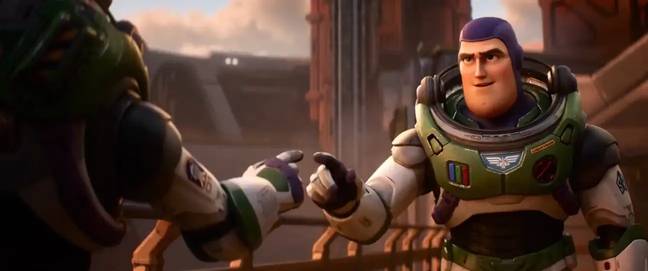 Allen, who voiced the character in all four Toy Story films, has argued that the premise has 'nothing to do' with the popular Pixar films that came before it, saying it has 'no relationship' to the original superhero.
Speaking to Extra, the actor said: "I've stayed out of this.
"We talked about this many years ago… but the brass that did the first four movies is not this. It's a whole new team that really had nothing to do with the first movies."
Allen continued: "There's really no Toy Story Buzz without Woody. I'm not sure what the idea – I'm a plot guy. It would seem to be a big adventure story, and as I see, it's not a big adventure story. It's a wonderful story, it just doesn't seem to have any connection to the toy. It has no relationship to Buzz."
While Allen believes there's no Buzz without his cowboy pal, after watching Lightyear, many fans are also calling for Woody to have an origin story of his own.
Film critic Chris Wasser pitched the idea on Twitter, writing: "LIGHTYEAR is grand and all, but the TOY STORY spin-off I'm most looking forward to is THE GOOD, THE BAD AND THE WOODY, featuring the smoky tones of, say, Kurt Russell, as everyone's favourite cowboy sheriff…"
Someone else said: "Next I want a Woody spin-off, but make it like a 60s western."
In the meantime, though, you can watch Lightyear in cinemas now.