Airbnb host says you can stay in a tent in their backyard for just $138 a night
An Airbnb host has offered guests to stay in a crowded tent in their backyard for a whopping £76 (AUD$138) per night.
In this cost of living crisis? Tell 'em they're dreaming.
According to The Sun, an Airbnb host by the name of Azz set up a 'glamping tent' in his backyard that provides a thin mattress and three blankets in case guests get cold because, you know, they're sleeping outside after all.
The Airbnb located in Brighton, East Sussex, also offers up a fire pit if guests get extra frosty.
However, on those extra hot days, guests are invited to take a dip in the 'hot tub', which truthfully resembles more of an inflatable kiddie pool.
Unless the host is willing to run in and boil some water on the kettle, hot tub? We think not, good sir.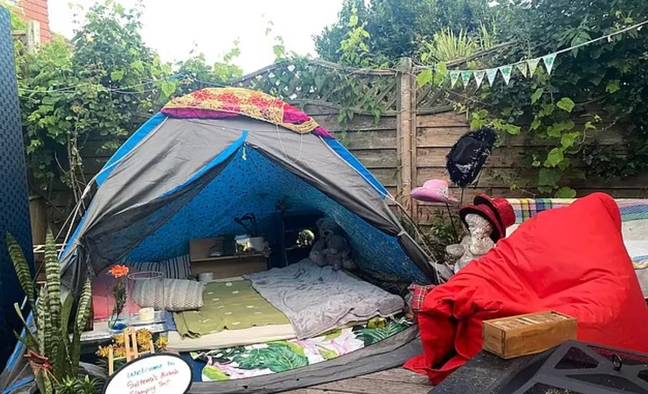 The description reads: "It might just be a tent but hidden in a lovely garden with sea views.
"Right in front of your tent is a firepit with garden furniture, and a hot tub nearby."
It added: "Free off road parking, you also have access to the facilities in the house (hot shower, toilet, full kitchen facilities).
"Enjoy a beautiful sunset from the garden, which is lit with a changing colour LED spotlight."
While this Airbnb might be ideal for a backpacker moving through the city, we can't help but think you could rent a hotel room for the same price or even a motel for cheaper.
Similarly, earlier this year, one Airbnb host was slammed for forcing their guests to complete a list of household chores.
A TikToker by the name of @Melworeit shared a video claiming she decided not to book an Airbnb because of a ridiculous $185 (US$125) cleaning fee.
The listing asked guests to take out the rubbish, remove bed linens, run the dishwasher, and do a load of laundry.
The TikToker said: "If I'm paying $229 a night to stay somewhere plus a $125 cleaning fee, I'm not doing any f**king laundry.
"I know it's like one load of laundry and it'll take me two minutes to do, but it's the principle that really bothers me."
Of course, this sent viewers into a frenzy, as one person wrote: "This is why I've gone back to hotels."
While another commented: "Either I'm cleaning OR paying the fee. You can't have both."