Americans are trolling Brits for not being able to handle 30-degree heatwave
Americans are flooding to social media in stitches over Brits' reaction to the heatwave.
This weekend (Saturday, 10 June) saw temperatures in the UK reach over 30°C for the first time this year.
In true British fashion, residents across the country flocked to the pub, a King's Guard troop fainted and others tossed and turned at night, unable to sleep.
And there's nothing some Americans love better than a bit of Brit-bashing - very much visa versa I haste to add - as those in the US have flocked to Twitter to take the piss out of Brit's handling of the heat.
And to be fair to Americans, when we complain about rain all year to then declare, 'ot actually might be too hot' as soon as we see a glimpse of sun - who can blame them?
One user wrote: "86 degrees fahrenheit is breaking news in the UK? [crying emojis]."
"It is news! The Brits start melting when the temperature hits 75 degrees Fahrenheit!" another joked.
A third commented: "Every American is currently googling what 30c is in Fahrenheit, only to giggle that Brits have to issue a health alert for average 86° Summer weather."
"Brits will be like ITS LITCHRALLY 29 CELSIUS IM MELTING like ok thats 84 fahrenheit that's a beautiful day outside," a fourth added.
And a final simply resolved: "Making fun of the Brits because they freak out over 86 degrees Fahrenheit will always be fun. Little wimps."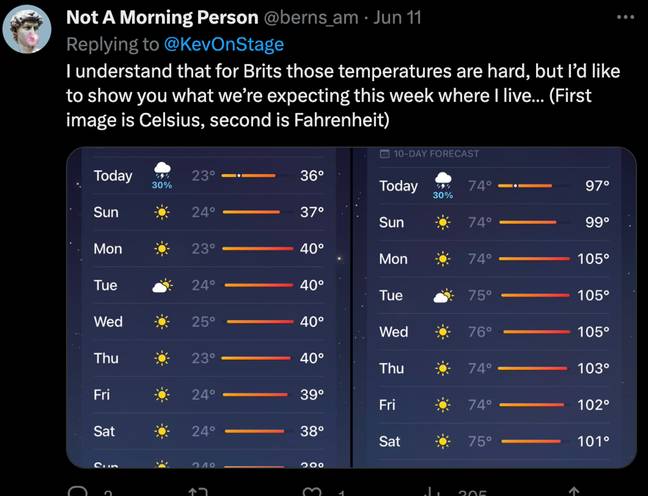 However, Brits aren't having any of it and have flocked to social media in defence.
One argued: "27 degrees so whatever that is in Fahrenheit but British infrastructure is designed to retain heat as historically we are a cold / damp country hence why we don't have ac/ arches / big windows ( for the most part ) so for most brits it's worse than being abroad."
Indeed, as per The Conversation, Britain really 'isn't built to withstand' high temperatures.
According to the outlet, 'roughly 20 percent of existing UK infrastructure is at risk of overheating' - including railway lines, water pipes and electricity networks too.
Although, it warns infrastructure will 'most likely fail' when temperatures hit above 40°C, so we still have a while to go yet - ish.
There's nothing like a bit of Twitter beef to unite everyone from other sides of the pond.