WARNING: CONTAINS DISTRESSING CONTENT

Police have seized hundreds of carcasses from the owner of an online wildlife market, which has been selling the meat of animals that potentially carry disease, such as racoons and eagles.
According to police, a female suspect surnamed Huang was arrested in the city of Pingguo in Baise, a prefecture-level city in China's southern Guangxi region.
She is believed to have been running the online market, which saw business conducted mainly through messaging app WeChat.
Forestry authorities - who are now engaged in a nationwide crackdown on wildlife trade - said they raided Huang's refrigeration facility on 31 January.
According to police, freezers kept in a rental unit contained the carcasses of 250 birds, three eagles, two leopard cats, 48 racoons, 30 squirrels and three pheasants.
However, in online advertisements, Huang also allegedly offered quotes for the meat of horse, dog and sparrow, along with the testicles of pigs and goats.
Forestry police officer Tan Chunmao said: "The female vendor Huang sold frozen wildlife through WeChat for an extended period of time.
"She also created a WeChat chat group, access to which was granted to loyal customers."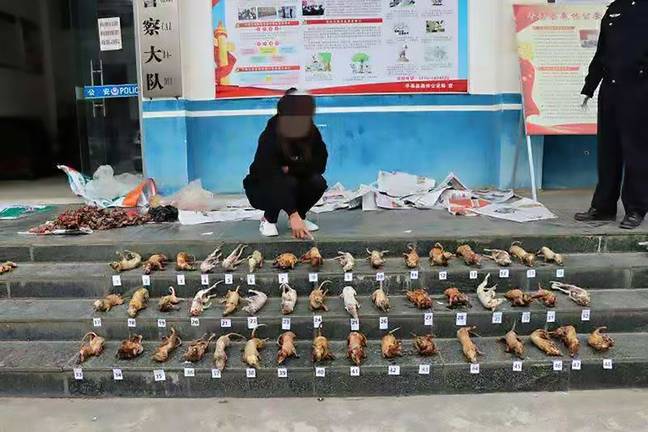 Police said Huang had admitted to purchasing the carcasses of exotic game and freezing them, before proceeding to sell them online.
The suspect remains in custody as further investigations continue.
Officials in China have moved to temporarily suspend the trading of wild animals amid the Wuhan coronavirus outbreak, which has so far claimed 427 lives, according to a live map created by John Hopkins University.
The map also shows that there have been more than 20,000 cases confirmed worldwide, and that 701 have managed to recover from the virus.
The outbreak of coronavirus was traced to a seafood market in Wuhan, the capital of central China's Hubei Province, where it transpired that unregulated wildlife such as snakes, rats, beavers, wolf cubs and even koalas were reportedly being sold.
As reported by state-owned Xinhua news agency, the Chinese Centre for Disease Control and Prevention (CDC) said: "Thirty-one of the 33 positive samples were collected from the western zone of the market, where booths of wildlife trading concentrated.
"The result suggests that the novel coronavirus outbreak is highly relevant to the trading of wild animals."
As the death toll rises, the World Health Organisation (WHO) has declared the global outbreak of coronavirus to be a public health emergency of international concern.
The WHO's director general, Tedros Adhanom Ghebreyesus, said: "The main reason is not what is happening in China but what is happening in other countries."
He added: "Our greatest concern is the potential for the virus to spread to countries with weaker health systems, and which are ill-prepared to deal with it."