Extinct: Michael Gove Talks To LADbible About Ending The Illegal Wildlife Trade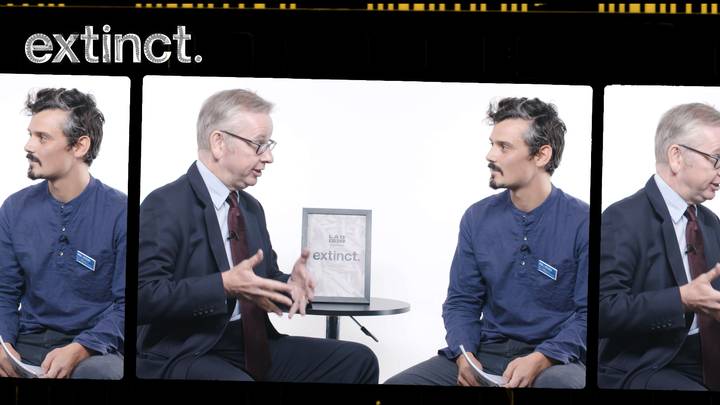 This statistic might shock a few people but the illegal wildlife trade is the world's fourth most lucrative trafficking after drugs, humans, and weapons.
That means that every day huge numbers of animals are being trafficked illegally, or even killed and harvested for valuable commodities.
For example, it is estimated that around 20,000 elephants are killed in Africa for their tusks. The tusks are then sold for astronomical amounts of money within the Chinese medicine industry, which has no proven medical benefit, but is nonetheless a hugely profitable business.
As part of LADbible's Extinct campaign, we arranged for Matthew Lowton, the Zoological Society of London's illegal wildlife trade expert, to sit down with the UK Government's Environmental Secretary, Michael Gove, to discuss the UK's role in preventing this evil business.
Gove said: "One of the great things about the Extinct campaign is that it reinforces - and this has become widespread thanks to LADbible and others - that the natural world is in danger.
"We've reached a stage where there are some species that are on the verge of extinction unless we take action.

"There are a range of forces that are converging on our generations which we have a responsibility to tackle.
"We know that climate change is one and that is having an impact on biodiversity, but we also know that - on our watch - the trade in ivory is killing African elephants at a rate that is horrendous and unsustainable.
"Can you imagine a situation where I have to explain to my grandchildren why the African elephant no longer exists?
"Even before I was Environment Minister, the greatest number of letters that I would receive would be about environmental and animal issues.
"It doesn't always lead the ten o'clock news, but it is what gets people motivated and it is what, I hope, will generate more action."
With that in mind, the government are staging a conference in October aimed at addressing the illegal wildlife trade. The conference will take place in London between the 11th and 12th October and aims to investigate how money is spent in developing nations regarding the illegal wildlife trade and what is being done to ensure that it is being stopped.
Gove continued: "One thing that we can do is that we can spend money and see how accountable we are for supporting developing nations. If we can invest our aid money properly in helping people to grow their economies sustainably then we can make it much more difficult for the poachers to peddle their business.
But what about in the UK? As well as the trafficking of illegal wildlife to the UK, there are also pressing questions to be answered regarding the UK's biodiversity and wildlife numbers.

The Environment Minister said: "We're taking through legislation to ban the sale of ivory in this country.
"We have targets that we're going to measure ourselves against for restoring habitats and making sure that wildlife returns to parts of our country from which it's been driven out.
"One of the things that I'm very keen on is making sure that we have a trajectory for improvement in this area that we all hold ourselves to account on which is every bit as rigorous as what we do on climate change

"We all know that we've got a commitment to reduce carbon emissions. What we also need to have is international commitments across the developing and developed worlds to reverse the destruction of nature."
The involvement of the public - in particular the LADbible audience - can make a difference through positive action and forcing the issue to be heard in the corridors of power.
Gove added: "If you do make your voice heard, whether that is through signing a petition or responding to government consultation or backing a charity like ZSL, that does make a difference because it always helps if you can point to strong passionate public feeling on an issue."
Extinct: A race against time to save our endangered species. Read more from our campaign here