Blink-182's Mark Hoppus says he contemplated suicide after receiving cancer diagnosis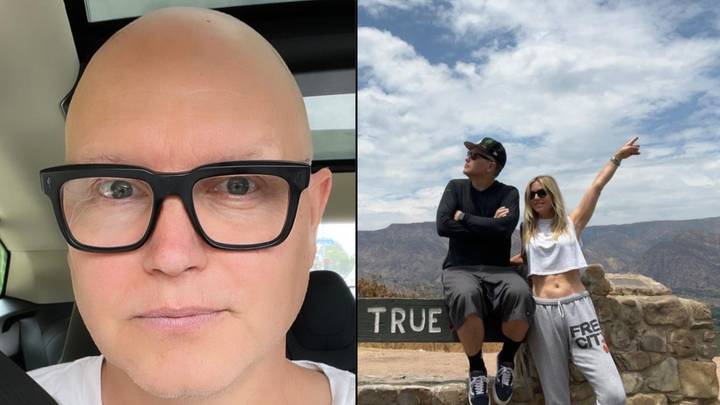 Blink-182 Mark Hoppus reveals he was contemplating suicide after he received his cancer diagnosis
The musician sat down with PEOPLE to share his cancer journey, disclosing that shortly after his diagnosis, he was in a 'dark place'.
"I was in our living room crying and telling my wife, 'I don't know if I can do this'," he recalls.
"She was like, 'Well, what are you going to do, kill yourself?' And that's exactly what I was thinking. It was pretty dark."
Read More:
He continued: "It was a total snap-out-of-it moment.
"I was like, 'What a s***ty thing to say.' But also, what a kind thing to say, like, 'Snap out of it, you f***ing baby. You have a beatable form of cancer. It's going to suck to get there, but get there.' I had to do the work."
The band's bassist-vocalist learned he had lymphoma after finding a lump on his shoulder in April, 2021.
Mark even texted his doctor, joking that his lump was either a 'pulled muscle' or 'deadly lymphoma'.
But Mark, unfortunately, turned out to be correct, as doctors found lime-sized tumours in not only his shoulder but neck and abdomen too.
They informed Mark that he had stage 4 diffuse large B-cell lymphoma, which is treatable with an early diagnosis.
Despite the hopeful chance of survival, Mark said the diagnosis led him down a spiral of depression, but eventually, he went into survival mode.
Mark wasn't planning to inform the public about his cancer journey, but the 50-year-old accidentally posted a photo from his chemo chair intended for his close friends.
Following the post, Mark was shocked by the overwhelming support he received from social media.
"I thought that once people found out, it would just be like, 'Haha, f**k you. You're going to die' — just the s***ty side of the Internet. Instead, everyone was like, 'You're going to get through this,'" he said.
After months of chemotherapy, which the musician described as 'brutal', doctors declared him cancer free in September last year.
At the time, he wrote via Instagram: "Just saw my oncologist and I'm cancer free!!
"Thank you God and universe and friends and family and everyone who sent support and kindness and love.
"Still have to get scanned every six months and it'll take me until the end of the year to get back to normal but today is an amazing day and I feel so blessed. Can I get a W in the chat?"
He also shared with the outlet that he's been given a 'second chance at life'.
While he said he still feels like a kid at heart, the musician is ultimately 'glad' to be alive.