Tributes paid to Bruce Willis as family announce dementia diagnosis
Tributes are pouring in for Bruce Willis, 67, after his family announced he has been diagnosed with dementia following his diagnosis of aphasia last year.
On Thursday (16 February) the Die Hard star's loved ones - including his wife Emma Heming, ex-wife Demi Moore, and his five daughters Rumer, Scout, Tallulah, Evelyn and Mabel shared an update about his health on Instagram confirming that he is now suffering with frontotemporal dementia (FTD).
Celebrities took to social media to share messages of support and love for the Hollywood icon, who retired from acting last year following his aphasia diagnosis.
"Sending love," Selma Blair commented.
Meanwhile, Demi Lovato commented: "Sending so much love.."
Supermodel Naomi Campbell wrote on Instagram: "Sending my love to you all."
Supernatural actor Jim Beaver tweeted: "The news of Bruce Willis's diagnosis of dementia is sad. I got my first real break as an actor playing his buddy Earl in IN COUNTRY, Norman Jewison's moving drama about Vietnam veterans, and it was a transformative experience for me."
Actor Rita Wilson, who is married to Tom Hanks, shared: "Thank you for sharing g this with us. Sending Bruce and all the families love."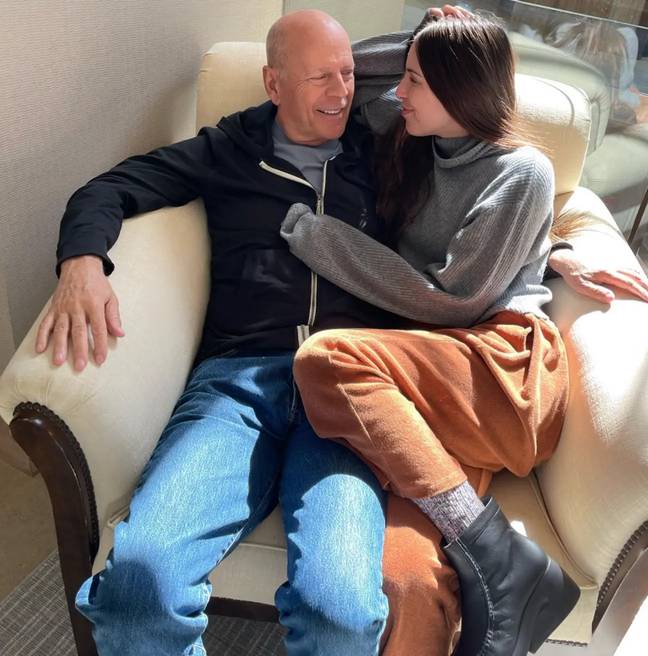 Marlon Wayans said the honours from Willis' family have been 'beautiful'. He commented under the post: "Love to you, him and the family. You're an amazing human. It's beautiful to honor him and your family the way you are. Makes my heart smile."
Journalist and former First Lady of California Maria Shriver re-posted the family's statement on Twitter and spoke of her 'gratitude' for them raising awareness about frontotemporal dementia.
"My heart goes out to Bruce Willis and his family, & also my gratitude for shining a much needed light on this disease," she tweeted. "When people step forward it helps all of us. When people get a diagnosis it's extremely difficult, but also for most a relief to get a diagnosis."
Breaking Bad actor Aaron Paul responded to the post with: "Love you so much my friend! Sending hugs to you and that beautiful family of yours. Your pops is such a damn legend."
Frontotemporal dementia is an uncommon type of dementia which affects behaviour and language.
This type of dementia affects the front and sides of the brain and while dementia mostly affects people over the age of 65, frontotemporal dementia tends to start at a younger age. Most cases are diagnosed in people aged between 45-65, according to the NHS, but it can also affect people younger or older than this.
Like other types of dementia, frontotemporal dementia tends to develop slowly and gradually worsen over the years. Signs may include personality and behaviour changes, problems with language and mental abilities and memory problems.
For more information on frontotemporal dementia please visit the NHS website