Chess player accused of using anal beads forced to have full body scan
Here's the moment the chess player accused of using anal beads to cheat was subjected to a full body scan:
You all remember grandmaster Hans Niemann, right? It's pretty hard to forget – but just in case let's refresh your memory.
In a story that's rocked the chess community, the 19-year-old player was accused of cheating after he managed to beat five-time World Champion player Magnus Carlsen at the Sinquefield Cup championship last month.
Shortly after the shock outcome, Carlsen mysteriously withdrew from the tournament, which comes with a $350,000 (£300,000) overall prize fund.
But the saga was far from over, as the rumours soon shifted to suggest Niemann had used cleverly placed anal beads (in his shoes, we should point out) in order to defeat the 31-year-old champ.
Whatever the case, amid the controversy and Carlsen's shock exit, the organisers of the US tournament weren't taking any chances.
There were still a number of rounds to go but they had no proof that Neimann had cheated at all and so they couldn't just boot him out.
Instead they ramped up security measures, which included thoroughly checking the teen grandmaster and his opponents before entering the competition.
And these measures were no joke, as demonstrated by the footage shared by YouTube page The Chess Brainiac.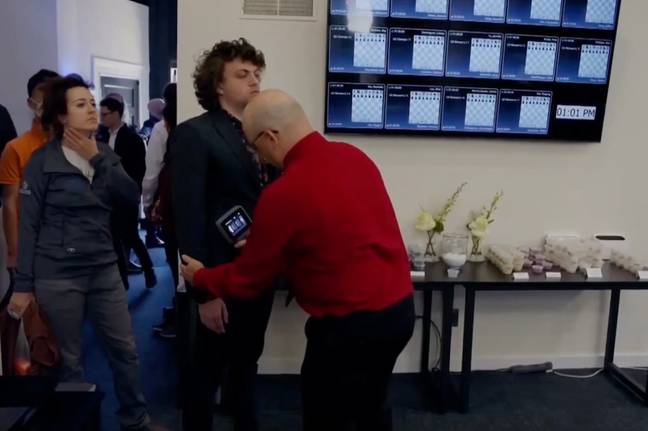 In the clip, Neimann can be seen waiting in line behind fellow chess players as they're checked from head to toe with a handheld scanner.
Once it's his turn, he looks rather bored as every inch of him is examined for potential sex toys stashed away in his suit – notice how they spent a particularly long time on his shoes?
Luckily for him they found nothing and he was able to continue in the tournament, although he was eventually knocked out of the Sinquefield Cup by player Fabiano Caruana.
The investigation conducted by Chess.com and acquired by The Wall Street Journal claims that the 19-year-old 'likely received illegal assistance in more than 100 games', with the latest indiscretion coming as recently as 2020.
The website used a variety of cheating-detection tools to gather the data, which includes analytics that compares human moves to chess engines that are incapable of losing.
The report also states that Niemann privately admitted to cheating in Slack messages to the platform's chief chess officer, Danny Rensch.
However, it didn't make any conclusive statements about Niemann's in person performances.
The report reads: "Looking purely at rating, Hans should be classified as a member of this group of top young players.
"While we don't doubt that Hans is a talented player, we note that his results are statistically extraordinary."
As the situation continues to take new twists and turns, the world is left shocked that a seemingly peaceful fringe sport could be rocked by such scandal.
LADbible has reached out to Hans Niemann for comment.