Cyclist Mocks New Highway Code Rules By Using Phone To Take Selfies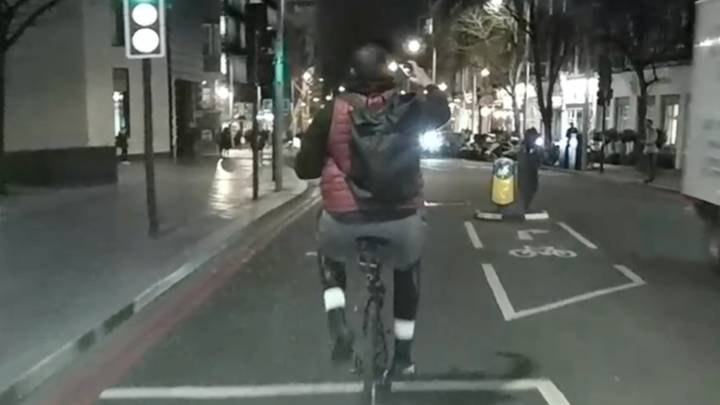 Featured Image Credit: Newsflare
A cyclist has been slammed for using his phone and riding dangerously in central London, with some accusing him of mocking the Highway Code changes. Here is the footage:
The man can be seen slowly riding in the middle of the road, stopping anyone from passing him. He also nearly knocks a fellow cyclist off before beginning to take selfies.
This has angered motorists who have said he's 'taking full advantages' of the changes which have been put in place to protect cyclists.
After taking a picture of himself, he almost collided with a commuter as he ran a red light.
The driver who caught the footage on their dashcam said: "Cyclist riding the middle of the road despite having a cycle lane by him, making it impossible to overtake.
"At the same time taking advantage of the no punishment on riding without any hands on the handlebars to steer the bicycle as his hands busy on his mobile phone taking selfies and with the other hand holding what appears to be a takeaway."
The new Highway Code rules give cyclists the right to ride in the centre of lanes on quiet roads, in slower-moving traffic and at the approach to junctions.
As well as being beneficial to cyclists, the revamp boosts protection for pedestrians as well with the new guidance stating that traffic should give way when pedestrians are crossing or waiting to cross at junctions.
A hierarchy of road users is also being introduced, meaning someone driving will have more responsibility to watch out for people cycling, walking, or riding a horse, and cyclists will have more responsibility to be aware of pedestrians.
The changes are advisory, so non-compliance will not result in a fine.
An AA survey of more than 13,700 drivers carried out earlier this month indicated that 33 percent were unaware of the changes, including 4 percent who had 'no intention' of looking at the details.
RAC head of roads policy Nicholas Lyes warned that the 'substantial' changes carry a risk of sparking 'angry clashes and, worse still, unnecessary collisions' unless all road users are aware of them.
He added: "Nobody wants to be on the right side of the Highway Code changes but in the back of an ambulance because of confusion on the part of a driver or any other road user."