Dentist confirms they can see if a patient has recently given oral sex
A dentist has confirmed that they can tell if a patient has recently given oral sex, saying that there's a simple way of knowing when they look inside their mouth. Find out how they know here:
Social media is riddled with various theories and rumours – some of which are true, of course, while some are just the stuff of weird online hearsay... especially when it comes to the colourful world of our sex lives.
But there's one fact that's been doing the round on TikTok recently that turns out to be scarily legit, as one dentist explained in a video posted to Reddit.
In the clip, a dentist is asked by a woman who is presumably his colleague: "I saw on TikTok that dentists can tell if you've just sucked a wiener. Is it true?"
The dentist replies: "Yup, that one's true."
He continues: "You can see bruising on the soft tissue on the back of the soft palate. And there's a particular pattern of bruising […] We can tell.
"So after Valentine's Day, we noticed that bruising in the soft palate a lot more frequently. Fun fact!"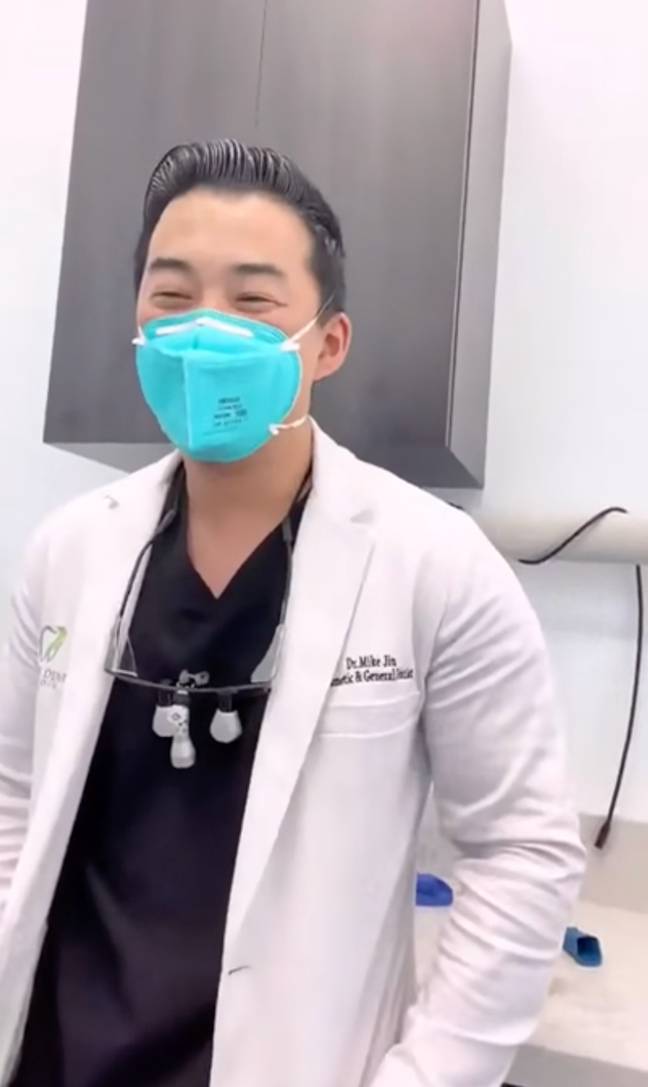 The video has racked up more than 57,000 upvotes within the first day of being posted, along with thousands of comments from stunned – and grossed-out – Reddit users.
Another wrote: "Wait. What if you just tried to eat an entire hotdog without biting or chewing?"
Someone else joked: "Dentist perusing your mouth sees bruising 'Sooo, how was your weekend?'"
A third shared their own horror story, saying: "Can confirm. I found out in the worst way. My mom worked at a periodontist's office and would always get me in for a cleaning when I'd visit home (from college). One time, the young, new, studly doctor (who everyone in the office including my mom would swoon over) was super concerned about bruising/discoloration in my mouth - concerned enough to tell my mom. Eventually it was figured out. Excruciatingly awkward. He must've skipped class the day this lesson was taught in dentist school."
The dental expert, who goes by the handle @dentite, explained: "I get this question a lot, and yeah, we know."
In a second video, he went on to elaborates on exactly how this is possible.
He said: "Palatal petechia. This is what it's called. If you like, say, sucking on a lollipop, one or two, here or there, not a big deal. But let's say you like sucking on multiple, multiple, multiple, multiple lollipops all the time, you've got a problem that's gonna cause palatal petechia."
Sharing a photo of what it looks like IRL, he then added: "As you can see, bruising of the soft palate and irritation right there."
In the comments, several other TikTok dentists have also chimed in with their expertise, with @thyrants writing: "Yeah, sometimes we can tell. And it's usually bruising on the soft palate called petechiae. But unless the patient's really young or shows signs of abuse, we don't care."
But if you're worried about a dentist being able to tell your whole sexual history just by looking inside your mouth, fear not.
Another TikTok user, a dental hygienist called @mandimaeee, said: "So a friend of mine sent me this video and was like, 'Oh my god, Is this true?' Yes, it is.
"To say that I'd be able to tell if you did it three years ago? No, but if you did it recently and you were a little bit aggressive about it... Some individuals might have, um, bruising to the palate, if you know what I'm saying. Soooo yes, we can tell."