Driver Caught Using Tinder And Sending Cringey Message While Driving On Motorway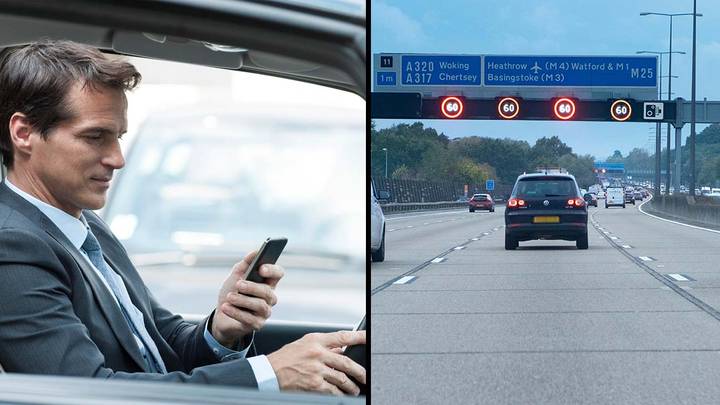 Featured Image Credit: Alamy
A driver was caught red-handed after sending a rather cringey message while simultaneously speeding down the motorway at 50mph.
On 14 March, at around 10:00am, police clocked an unnamed motorist cruising down the M25 while busy on his phone.
After swiftly pulling him over, they asked him to scroll through his recently used apps and discovered that Tinder was just open.
Much to their horror, they then found a WhatsApp exchange that involved the motorist asking for 'private cuddles', whatever that means...
A screenshot of the police report was shared on Surrey Police's Roads Unit's Twitter.
It read: "I asked him to scroll across to recently used applications and saw that TINDER dating app was open and at 0959hrs and 1000hrs he had been exchanging WhatsApp messages with someone asking for 'private cuddles'."
A spokesperson for the force added: "It's a strange time when we glimpse into peoples lives when dealing with drivers on their phone.
"Please don't plan your 'private cuddles' whilst driving at 50mph along the M25."
The driver was done for 'distracted driving'.
One Twitter commenter joked: "Is it within your powers to tell them that they should never, ever use the phrase 'private cuddles' again."
Another questioned: "What is a private cuddle, it's not an obscene act so in theory there is no reason why it can't be public."
Surrey Police have been contacted by LADbible for comment.
If you're hoping to exchange some saucy messages on Tinder much like the guy above, then you might want to listen to one lad who created 'the best Tinder profile of all time'.
Zachary Kroger, 38, made a series of amusing infographics for his future lovers – including a pie chart showing all the perks of dating him, a 'hotness scale', and a graph illustrating that his 'stability in all areas has been on the rise of years, and is expected to climb'.
He also proved he was 'moderately well-traveled', having been to Ireland, England, Scotland, South Africa and Germany, adding that in the future he wants to go 'on a date with you!'. Smooth, very smooth.
After Kroger's profile was spotted on Tinder, it garnered the attention it deserved when screengrabs were posted on Reddit, where it soon went viral.
Posting the images, the Reddit user wrote: "By far the best Tinder profile I've ever seen. Kudos to this guy!"
And it seemed others agreed, with the post racking up more than 76,000 upvotes and thousands of comments.