People have been figuratively tying themselves in knots trying to work out what the answer to a supposedly 'simple' maths question.
If you're a bona fide grown up then it might have been a while since you've had to do any difficult maths and you'll probably be all the more glad for it.
So long as you can figure out what your change is supposed to be and you can do basic sums, you're pretty much set for most of your adult life.
Despite spending hours learning it in the classroom, algebra and trigonometry feature very little in adult life, and calculating the hypotenuse of a right angled triangle doesn't come up very often either.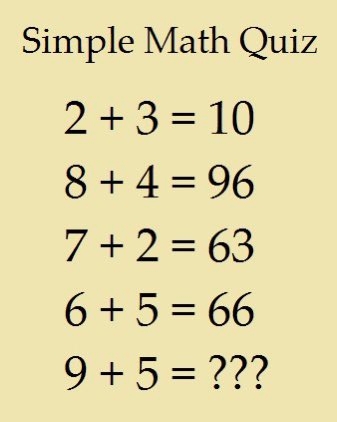 Unless you're living in a dystopian hellhole, then two plus two equals four and two plus three equals five, but this numerical conundrum claims that two plus three actually makes 10.
The answers only get weirder from there and the puzzle has left plenty of adults confused as to the actual answer of nine plus five.
Baffled adults have been lining up to say on social media they don't know how to figure this one out, saying 'the math 'aint mathing'.
Answers ranged from the obvious 14, though since two and three doesn't equal 10 that was never going to be correct for this question, to people guessing figures like 23 and 70.
Some people were able to get the right answer and figure out what the key to solving this question really was, or they might just have just looked in the comments to see what someone else said.
If you want to know before we tell you the answer, then give yourself a bit of time now to work it out.
By now you've probably figured out that the entire thing is a trick and the question is not actually asking you to just do some basic addition, it's more of a logic puzzle than a maths one.
Instead there's a missing step to the sum and that's to multiply your answer by the first number that appears.
Two and three make five, but multiply that by two and you get 10, eight and four make 12 but when you multiply that by eight you get 96 and so on.
Since nine and five is 14 and 14 times nine is 126 that's the ultimate answer to this puzzle.
Featured Image Credit: X/Humans No Context/Getty Stock Photo
Topics: Viral, Social Media