Families Are Waiting For Up To 30 Hours In Massive Queues To Go To France At Dover
Families have been waiting for up to 30 hours in queues at Dover in an attempt to cross over to France, with people warned there is still a 'way to go' to clear the backlog at the busy port.
After roads became gridlocked with traffic yesterday, 22 July, Doug Bannister, Chief Executive of the Port of Dover, said that five to six hour delays could still be the case today.
Indeed, some 10,000 cars were expected at Dover on Saturday, 23 July, with more than 13,000 passengers said to be 'on their way' before 10.00am – many of whom are families hoping to mark the start of the school holidays with a trip abroad.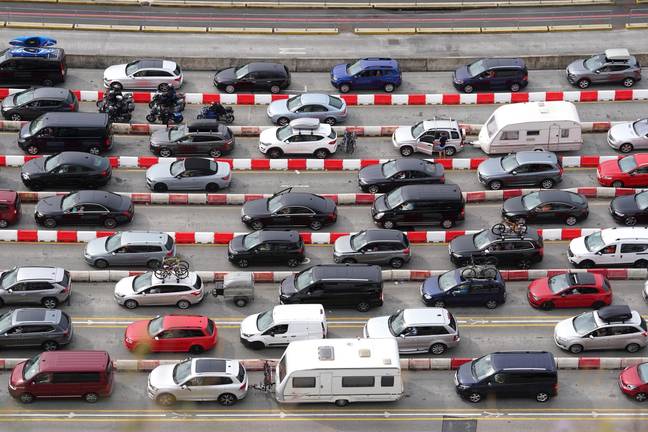 In an update earlier today, port authorities said they were 'relieved that French border staff (Police Aux Frontieres) have now been fully mobilised at French border controls in Dover', but added: "There is of course a way to go to clear the backlog of waiting passengers."
The statement added: "Today is going to be very busy, with more UK tourists heading to Dover in order to travel to France."
Many frustrated travellers have reported delays of up to seven hours as they tried to get onto ferries, while others have claimed they've been waiting even longer – with one person tweeting to say they had been stuck at Dover for '30 hours'.
"30 hours of waiting at Dover," they wrote, tagging a number of media outlets to try and spread the word.
"Why is it France's problems? We voted #Brexit."
Stuck in the traffic near Dover for three hours so far (moved about 10m). Tempted to go car to car asking each driver whether they voted for Brexit.

— Paul Lewis (@PaulLewis17) July 23, 2022
We arrived 8am at Dover turning. It's taken as nearly 7 hours so far still waiting at border control. 10 hour travel 😊

— melanie Snowden (@melanieSnowden4) July 22, 2022
Yesterday, Bannister said it was 'immensely frustrating' to be 'let down' by poor resourcing at the French border.
He also said there will be 'increased transaction times' at the border due to extra checks needed.
Speaking on the BBC Radio Four Today programme, he explained: "We are operating in a post-Brexit environment which does mean that passports need to be checked, they need to be stamped and indeed the capable people that do man the booths, police aux frontieres, they're doing their job that they need to do now."
Bannister said the port had 'created more border capacity so that the overall throughput can be maintained', and that while 'very peak busy days during the summer season' are only to be expected, he believed that, for the most part, 'we should be able to cope with the traffic'.
However, French politician Pierre-Henri Dumont, Republican MP for Calais, has blamed the UK's exit from the EU for the chaos.
Speaking to BBC News, he said the issue was an 'aftermath of Brexit' with more checks needed, claiming the port at Dover is 'too small' with too few kiosks due to lack of space.