At least 125 football fans have been confirmed to have died after a massive riot broke out at a match on Saturday.
Violence broke out at the end of the game in Malang, East Java, Indonesia where Arema FC lost 3-2 to Persebaya Surabaya.
Many of the onlookers, including children, according to some reports, were trampled to death after police fired tear gas at fans who stormed the pitch and threw bottles at the footballers and officials following the game result.
Upset about their team's first home defeat in 23 years, Arema supporters also stormed police cars outside the stadium, where at least five vehicles were set on fire and overturned by fans.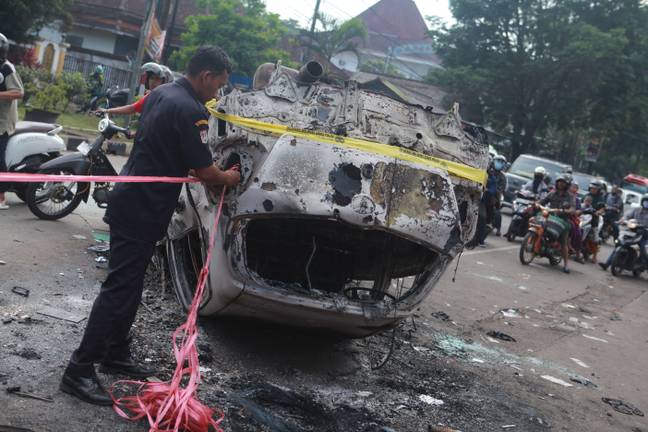 And, according to an eyewitness testimony given to the BBC, police fired multiple rounds of gas 'continuously and fast' after the situation became 'tense'.
Despite local authorities using the chemical weapon at the event, tear gas is actually banned at football stadiums by FIFA (the Federation Internationale de Football Association), the football governing body to which Indonesia is subscribed.
Some were suffocated by the gas, while others were trampled as hundreds of fans ran towards the exit in an attempt to escape the overwhelming chemicals.
Nico Afinta, the police chief for East Java, has warned that the death toll is likely to increase as some who are being treated in hospital are unstable.
More than 300 who were injured in the horrific scenes were taken to hospital, but many died on the way or died during hospital treatment, according to the police chief.
Afinta said during a news conference: "We have already done a preventive action before finally firing the tear gas as (fans) began to attack the police, acting anarchically and burning vehicles."
Many relatives waited at hospitals for further information about whether their loved ones were injured or had died at the match, while others were left to identify their friends and family members at a morgue.
Meanwhile, PSSI, Indonesia's football association has since suspended the Premier League permanently in light of the tragic event, as well as banning Arema from hosting matches for the remainder of the season.
Indonesian president Joko Widodo has also ordered the sports minister, national police chief and the chairman of the PSSI to conduct a full investigation into the events of the match and the security arrangements which were carried out.
If you have experienced a bereavement and would like to speak with someone in confidence, contact Cruse Bereavement Care via their national helpline on 0808 808 1677