Fortune teller Nostradamus predicted King Charles will abdicate the throne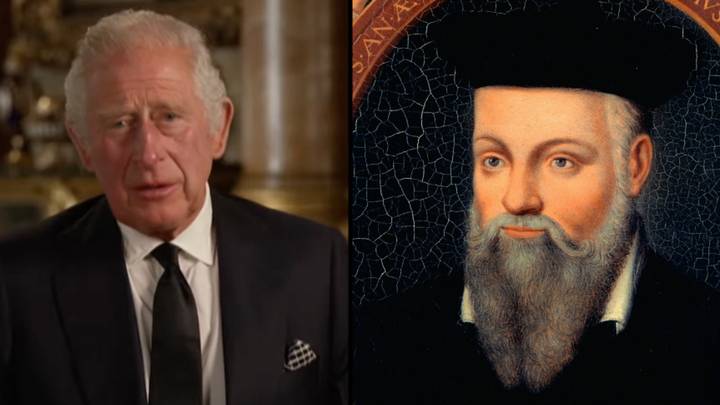 If fortune telling and 16th century astrology gets you hot under the collar, this'll be your jam.
A new take on the writings of Michel de Nostredame, otherwise known as Nostradamus, suggest the noted seer predicted King Charles's reign will be short and sweet, and that his youngest son, Prince Harry, might find himself on the throne.
Mario Reading, an author and leading expert on Nostradamus, has suggested the latter predicted the exact year of the Queen's death in cryptic poems written in 1555.
Writing about Nostradamus's poems in 2005, Reading said: "The preamble is that Queen Elizabeth II will die, circa 2022, at the age of around ninety-six, five years short of her mother's term of life."
The author also said that when Nostradamus wrote the words 'King of the Islands' in one of his poems, the astrologer was referring to the fact that much of the Commonwealth will break away during King Charles III's reign.
He also claimed: "Prince Charles will be seventy-four years old in 2022, when he takes over the throne, but the resentments held against him by a certain proportion of the British population, following his divorce from Diana, Princess of Wales, still persist."
Reading also speculated that Charles's age will force him to abdicate, and that Nostradamus's lineL "A man will replace him who never expected to be King" means Prince William isn't in the picture.
Reading pondered: "Does that mean that Prince William, who would have expected to succeed his father, is no longer in the picture?"
The author also said that if William can't take up the role, 'that Prince Harry, by process of default, [might] become King in his stead'.
"That would make him King Henry IX, aged just 38," Reading added.
In the past, people have suggested Nostradamus has successfully predicted things like the rise of Hitler and the Nazi Party in Germany back in the 1930s, right through to the September 11 terrorist attacks on the World Trade Center towers in New York.
Nostradamus was also said to have predicted that 2022 could be the year the robots finally catch up with us and take over.
He once wrote: "The Moon in the full of night over the high mountain, the new sage with a lone brain sees it: by his disciples invited to be immortal, eyes to the south. Hands in bosoms, bodies in the fire."
It was thought the 'new sage' that has been 'invited to be immortal' was a reference to the spectre of technology.