Four-year-old girl gets trapped inside arcade game after trying to get a teddy bear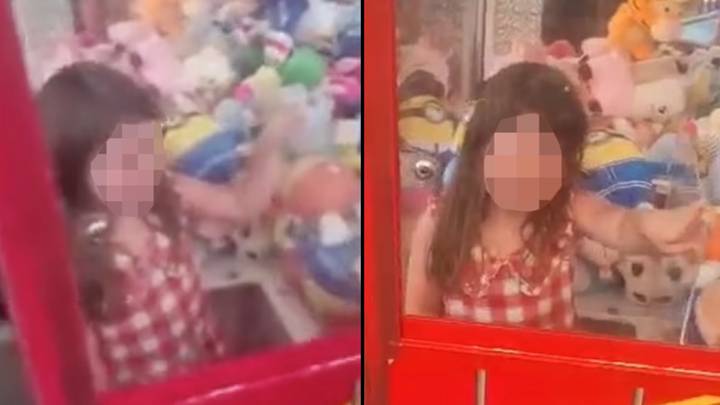 A four-year-old managed to get trapped inside a claw machine after trying to steal a teddy bear.
Following the advice of her older sister, six-year-old Savannah, the four-year-old decided to take a teddy bear from the machine; however, things quickly turned ugly.
Just moments later, the little girl was captured sobbing while tapping on the glass as her sister yells, 'Poppy can you get that for me' while pointing to a plush toy, as per a video posted to Daily Mail.
Savannah, not the time, darl.
As her mother, Melanie Pike, laughingly looks on, she tells the viewers: "You wouldn't believe it, oh my god. The kid's just come running in while we're eating lunch."
The mother continues: "Poppy, how are we going to get you out?"
Melanie's partner, Brett Pearson, then strolls in to tell the family the dreaded news.
"They don't have a key," he says.
Her father can be heard telling Poppy to 'sit on her bum' and 'put her feet under' where the machine's opening is located.
The dad tells his little girl to extend her feet while leaning back and manages to pull the youngster through the hole at the bottom.
As Poppy is finally freed, he tells her: "That's why you don't try to steal out of the machine."
Definitely, a hard way to learn why the five-finger discount is wrong.
Poppy's mother told 7NEWS her girls were playing outside when she and Brett were altered Poppy had become trapped inside.
"The next thing, my twin daughters ran inside and said 'ah, Mum, Poppy's stuck in a vending machine'," Melanie said.
A very funny sentence to hear out loud, do doubt.
She told Daily Mail: "My partner is a chippy [carpenter] by trade so I knew he would get her out.
"He's the true hero. I was just laughing and filming."
Luckily the little girl has recovered from the ordeal, as Melanie said she's telling her friends she's 'famous now' following the hilarity being covered by the media.
Melanie added: "It'll be a great funny story for her 18th birthday."
The mother also thanked the staff at Airlie Beach fun fair, for responding so promptly.
"They had the key and were on the way so we weren't too stressed," she said.