Newspaper Tricked Into Using Photo Of Hasbulla In Snow Photo Section
A newspaper in the UK was tricked into publishing a photo of Hasbulla Magomedov in a piece about children enjoying the snow.
The viral star - who is understood to have a form of dwarfism - has become hugely popular across social media platforms, but clearly staff at a local paper in Scotland didn't recognise the Russian.
In a viral tweet, a man said that the paper had asked for pictures of children enjoying the snow and Hasbulla had been included in the compilation.
The caption under his pic read: "Hasbullah, seven, had never experienced snow before last week."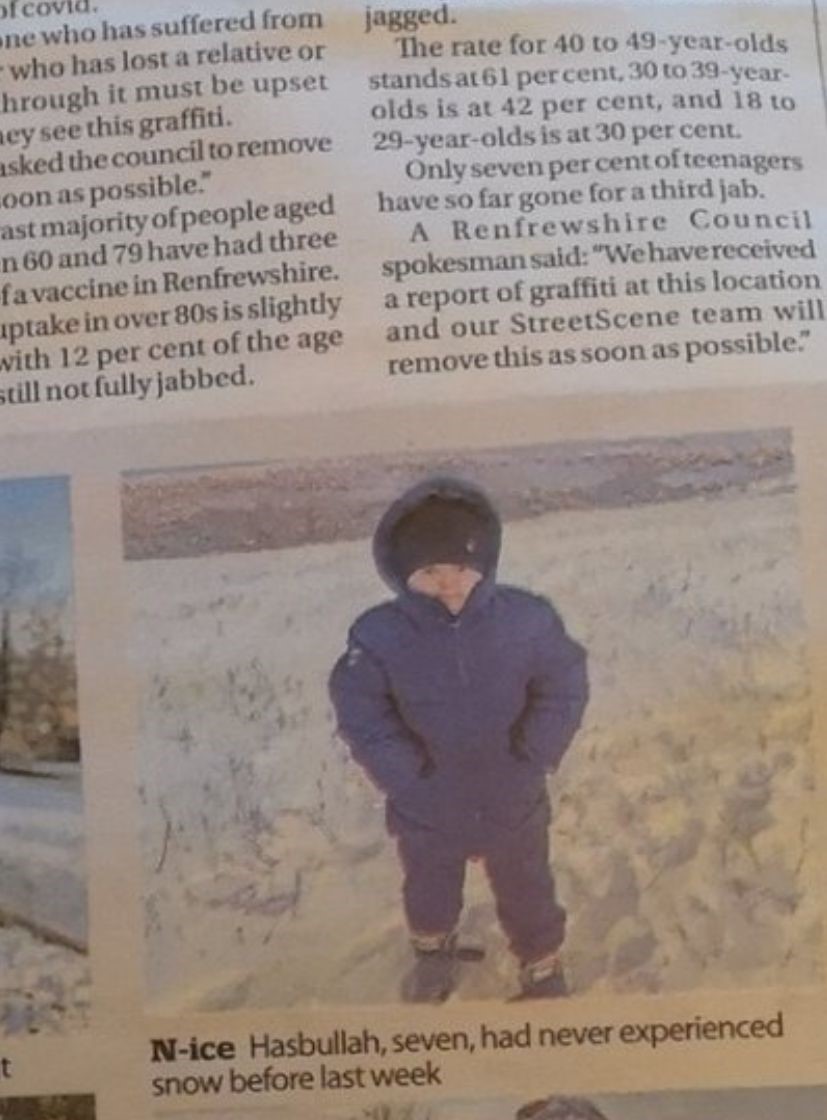 One Twitter user took credit for the prank, sharing a screenshot of what appears to be an email to the paper, which read: "Wee Hasbullah aged 7 on the Gleniffer Braes with Paisley/Glasgow in the background.
"This is the first time he has actually seen snow!"
Hasbulla is in fact a teenager who is particularly popular in the world of MMA, and in October he faced off with Tajik singer Abdu Rozik after UFC 267.
Hasbulla could be seen wearing a green tracksuit and black hat before seeming to insinuate that Abdu Rozik would be asleep soon.
The pair weren't messing either, with Hasbulla all of a sudden running towards Rozik - who is also understood to have dwarfism - with someone getting in the middle of them in a bid to stop anything further from happening.
The guy in the middle might not have done enough though, because Hasbulla got a kick in at Russian Rozik, who had dressed for the occasion in a navy pinstripe suit.
At one stage, Rozik had to be lifted up to stop them fighting.
As the men came head-to-head, commentary could be heard in the background as the event came to a close, following light-heavyweight world champion Glover Texeira's defeat against Jan Błachowicz.
In fact, Texeira was being interviewed as Hasbulla and Rozik tried to take the limelight.
The duo were in Abu Dhabi with different fighters. Hasbulla was supporting Islam Mackachev, who went up against Dan Hooker.
Rozik had attached himself to Hooker's camp, but Mackachev ended things in the first round.
Hasbulla, whose followers have dubbed him 'Mini Khabib' (in reference to UFC fighter Khabib Nurmagomedov), made a name for himself after taking the internet by storm.
His level of fame has reached such heights that not only has Joe Rogan spoken about his popularity on his podcast, but he has also been called out by a number of huge stars, from Logan Paul to MMA fighter Rafael Fiziev.