Illegal Ravers Clean Up Entire Site After Hundreds Party For Three Days Straight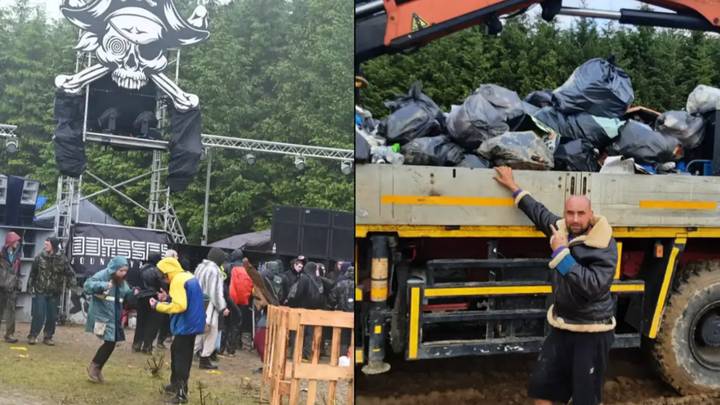 An illegal rave in Cornwall left locals concerned that the site would be a tip come the end of the weekend - but a post on social media has shown how some attendees stayed behind to help clean up the area.
Partygoers first descended upon Davidstow Moor on Friday, ahead of what eventually morphed into a three-day rave over the Platinum Jubilee weekend.
According to the BBC, several hundred people are believed to have attended, with many having been turned away by police before they could arrive at the makeshift campsite.
Devon and Cornwall Police informed the BBC that action was set to be taken against event organisers, stating on Monday: "I would like to reassure the local communities and wider public that we are taking this matter seriously and where appropriate, we will seek to take action against those attending and running the event."
One of the biggest concerns local Cornish residents cited was the mess that would be left behind by the revellers after everyone had left.
However, these fears have been allayed somewhat by a Facebook post, which shows the cleanup effort that is being made by some of the ravers.
User Tony C Steed posted several pictures of the rubbish collection effort, with the caption: "For all the locals saying the rave at Davidstow have left all the rubbish behind, I've got livestock in the vicinity and have had no problems at all.
"And there refusing to leave until they have picked all the litter up ,and I've found them all good people."
Responding to a comment, Tony confirmed that the clean-up was finished on Monday, which will hopefully allow the local community to return to normality once again.
The BBC quoted local residents over the weekend who had already had enough of the noise generated from the temporary rave set-up.
Colin Caudery, who lives nearby, said he had been kept up all night by the booming speakers.
"Drunkards from Scotland, Liverpool, Brighton, London, everywhere, it's just been total chaos," he told the BBC.
It also led to increased travel disruption in the region, on what was already a busy weekend for Cornwall - with families around the country heading down to the seaside for the bank holiday.
A police cordon was set up around the perimeter on Sunday to try and keep people away from the site - but it only served to increase traffic on the surrounding roads. However, as of Tuesday the area now appears to be cleared following the four-day weekend.