Brits stunned at incredible UK beach that looks like it should be abroad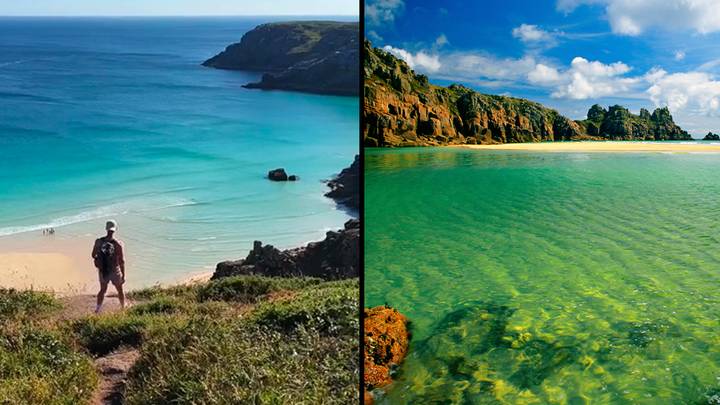 A beach in the UK has been attracting a bit of attention online because many are suggesting that it doesn't look like it's in Britain at all, rather somewhere on the Mediterranean or on the Amalfi Coast.
Check it out - it really is a beautiful place.
Of course, nobody is here to say that the British Isles aren't beautiful.
However, it's also fair to admit that they also lack some of the weather that other places further south in Europe and the rest of the world get.
That can sometimes be a downside to staying at home rather than booking a flight to get away to continental Europe.
Still, if Covid taught us all anything, it's that sometimes the beauty you're seeking isn't that far away, and might be right on your doorstep if you're willing to get out there and have a look for it.
This won't come as a surprise to anyone who has been to Cornwall, it's pretty nice down there.
There are hidden coves to be found, stunning beaches to be walked, and clear blue seas – well, most of the time – to be swam in.
One place that boasts these features in Pedn Vounder, which isn't that far from Penzance.
Golden sands, turquoise seas, you could imagine you were somewhere else entirely other than the shores of Old Blighty.
Which does beg the question – why would you?
Just enjoy where you are, maybe?
Anyway, Pedn Vounder is set amongst some stunning cliffs, and is described as 'something of a poster child for Cornwall's most stunning beaches'.
After TikToker @jack.jeffs shared a video on the beach and in the sea at Pedn Vounder, he said that the area was a place 'that you wouldn't believe is in the UK'.
He continued: "This cove literally looks like it belongs on Italy's Amalfi Coast, with crystal clear blue water and a stunning cliff view.
"It's really not a place you'd expect to be in England."
If you get the weather, that is.
Amongst the comments, there was further disbelief.
One person wrote: "No way it's in the UK!"
There is something to be noted about Pedn Vounder, in case you are planning a day trip out there.
It is popular with nudists, as one website notes: "Whether you are into baring it all or being more modest when you sunbathe, this is one you must visit.
"My only advice is: 'Respect those who bare it all, it's been going on forever.'"
You have been warned – the nudists have just as much right to be there as you do.
Anyway, you'd get nudists whether you went to Cornwall, the Amalfi Coast, or the Med.