It's time to get the tissues at the ready – or prepare to start grumbling about having the same song stuck in your head until 1 January, depending on how you see it – as the John Lewis Christmas ad has finally landed. Watch it here:
The advert - which is set to a festive cover of 'All the Small Things' by Blink-182 - follows a keen skateboarder trying and mostly failing to learn the sport in the run up to Christmas.
After lots of practice and YouTube tutorials, he finally gets the hang of it just in time for the arrival of the couple's foster child, who also has a love of skateboarding.
John Lewis teased the advert - called 'The Beginner' - by tweeting a short clip on social media yesterday (9 November), writing: "Christmas is ramping up."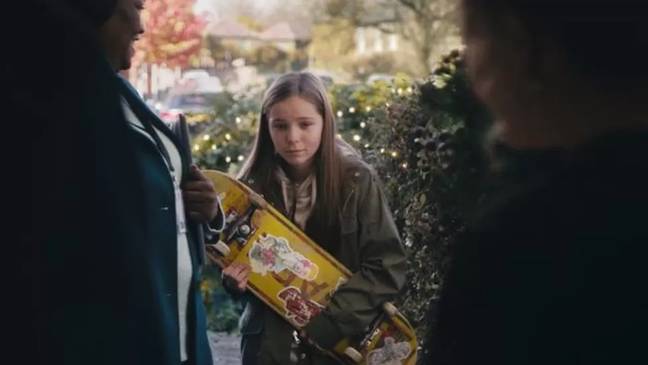 The department store also added a skateboard emoji.
The clip showed someone wheeling a Christmas tree along a residential street on a skateboard, at one point addressing a family as they passed to wish them a merry Christmas.
Before the ad even landed, John Lewis was sure to issue an apology to someone – that's right the John Lewis, the dude on Twitter who has the handle @JohnLewis and gets inundated with messages every Christmas.
This is a public information message for @JohnLewis: Our Christmas ad launches tomorrow. Apologies in advance for your mentions, we hope you haven't got any plans."
In past ads, we've seen anthropomorphic toy penguins, the man on the moon and an over-excitable dragon.
Last year's campaign, which was called 'Unexpected Guest', featured an alien named Skye who crash landed in the middle of the woods, befriending a young teen called Nathan, who showed her all the best traditions of the season - including decorating a tree and wearing novelty jumpers.
The ads have become famous for their soundtracks, which often feature covers of well-known songs.
2021's offering bore a rendition of 1984 hit 'Together in Electric Dreams', performed by singer-songwriter Lola Young, while previous years have also featured vocalists including Ellie Goulding, Gabrielle Aplin, Lily Allen, Aurora, Tom Odell and Vaults.
In 2018, Sir Elton John also became the first artist to perform and star in the ad, which documented his rise to fame from boyhood after being gifted a piano - all set to the singer's poignant 'Your Song'.