Karen's Diner Apologises After Waiter Called A Customer A 'Paedo'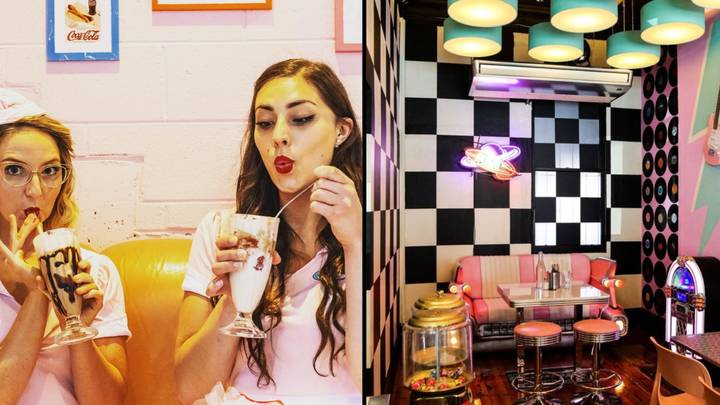 The infamous diner known for purposely insulting their customers has landed in hot water after one of their waiters took the playful ribbing a little too far.
Over the weekend, the Howard family from Brisbane's north were left 'disgusted' by their Karen's Diner experience at Westfield Chermside after a staff member made inappropriate comments, according to Courier Mail.
Despite Stacey Howard dining with his family during the restaurant's 'child-friendly' hours before 5 pm, one waiter called his daughter an 'OnlyFans tart'.
He told the outlet: "My daughter was doing a Facebook live and this young guy came up and said 'Are you on OnlyFans you tart? – Here's some content for you' and he pretended to wank himself off and jizz on the table," he said.
Following the comment, Stacey recalled that his daughter's jaw 'hit the floor'.
However, things only escalated from that point onwards.
He added: "My daughter sat on my lap because she was concerned and he said 'What are you a paedo?', 'Are you all having sex with each other?'"
Stacey also said that he saw the same waiter call a young boy a c**t.
He said: "The epitome of a Karen for us is someone who whinges but the amount of swearing and vulgarness on that Sunday was just crazy.
"We are a pretty out there family and don't mind banter and a bit of a laugh but it got to the point that it was just vulgar.
"My daughter and my mother in law were just sitting there dumbfounded, it got that uncomfortable that we just stood up and left."
A spokesperson for the restaurant told that outlet they were 'disappointed' to hear about Stacey's dining experience.
They also disclosed they would be putting proper training protocols in place to ensure 'nothing like this happens again'.
Similarly, earlier this month, diners were kicked out of an intentionally rude restaurant in Melbourne, leaving them confused if it was all part of the 'act', according to The Herald Sun.
The family was escorted out from the Carlton venue shortly before police arrived; however, no criminal offences were reported by either party.
A spokesman for the restaurant told Daily Mail: "Unfortunately we had some customers who breached the rules and were being out of order towards staff and therefore, they were asked to leave the venue."
On Karen's Diner website, customers are warned that the venue does not tolerate any 'homophobic', 'sexist', 'ableist', 'racist' or 'sexual remarks' against their staff.