Canada Becomes First Country In The World To Declare Proud Boys A Terrorist Group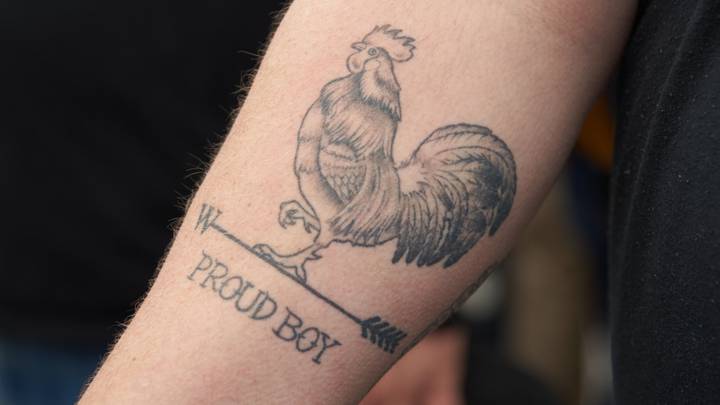 Canada has become the first country in the world to declare the Proud Boys a terrorist group.
Members of the male-only, white nationalist organisation - which emphasises far-right, neo-fascist politics - were reported to have been involved in January's insurrection at the US Capitol.
Due to the growing threat of far-right extremism, Canadian politicians voted to add the Proud Boys to a list of 'terrorist entities' that also includes Islamic State and Al-Qaeda.
Public Safety Canada said the Proud Boys group 'meets the legal threshold' for the criminal designation.
It explained that this threshold required 'reasonable grounds to believe that an entity has knowingly participated in or facilitated a terrorist activity', or has acted on behalf of or in association with such an entity.
"On January 6, 2021, the Proud Boys played a pivotal role in the insurrection at the US Capitol. Leaders of the group planned their participation by setting out objectives, issuing instructions, and directing members during the insurrection," Public Safety Canada declared.

Declaring the Proud Boys a terrorist group will now force banks or other financial institutions in the country to freeze any assets connected with the group.

It's also now illegal for any Canadian to knowingly do business with the Proud Boys.
Citizens are prevented from even giving support to the group, including assisting with travel, training or recruitment.
The country has been cracking down hard on the far-right, with Public Safety Minister Bill Blair explaining 'ideologically motivated violent extremism has been identified as the most significant threat to domestic security in Canada'.
Mr Blair said other far-right groups were also added to the terror list: The Atomwaffen Division, an American neo-Nazi group; the Base, a white supremacist group; and The Russian Imperial Movement, a Russian ultranationalist, white supremacist, far-right paramilitary organisation.
Three Al-Qaida affiliates, five ISIS affiliates and the Hizbul Mujahideen - which operates in Indian-administered Kashmir - were also added.

The United States is prevented from adding domestic groups to terror lists due to the First Amendment, according to NPR.
The Proud Boys were founded in 2016 by media figure Gavin McInnes. They were staunchly pro-Donald Trump until the former US President released a video after the Capitol insurrection which condemned the violence that occurred.
They've since labelled Trump 'weak' and a 'failure', according to Buzzfeed, but are vowing to continue to push their agenda.
Social media companies Facebook, YouTube, Twitter and Instagram have all attempted to limit their message by blocking their accounts.