'Otherworldly' Wreckage Discovered On Mars' Surface By NASA's Helicopter
Space nuts have been left in a tizzy after new images snapped by a NASA helicopter captured the wreckage of a spaceship.
The mind-blowing pictures were captured by NASA's Ingenuity helicopter, which has been bopping up and down to the Red Planet for just over one year.
The images, taken by the aptly dubbed the 'Marscopter', were snapped on the vessel's 26th flight.
The craft was originally designed to fly on Mars a mere five times, but has now far surpassed that and has enjoyed a lengthy career joyriding through outer space.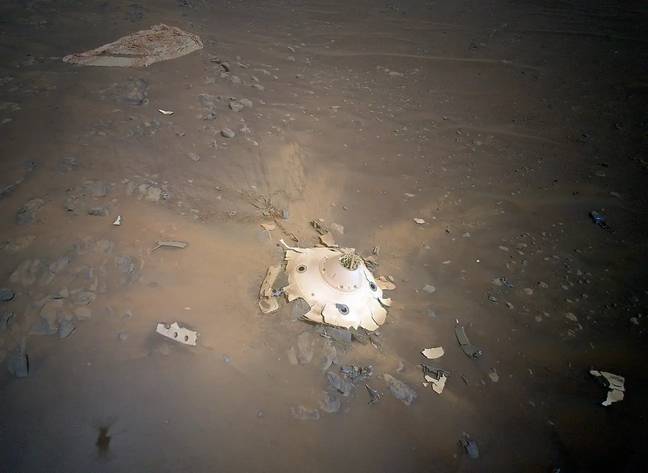 But before you jump to conclusions about the wreckage found on Mars and start belting out your own rendition of David Bowie's 'Life On Mars', NASA has revealed where the strange-looking ship came from.
Unfortunately, the space ruins are not the work (or proof) of alien life.
Instead, it's actually the remains of the landing equipment used from a previous visit with the Mars Perseverance rover.
The incredible photos boast incredible detail and full colour and makes us wish it was actually an extra-terrestrial discovery.
Speaking to the The NY Times, Ian Clark, an engineer who worked on Perseverance's parachute system, said of the photographs: "There's definitely a sci-fi element to it. It exudes otherworldly, doesn't it?
"They say a picture's worth 1,000 words, but it's also worth an infinite amount of engineering understanding."
Clark described the Perseverance as having 'the best-documented Mars landing in history', adding that cameras showed 'everything from parachute inflation to touchdown'.
He added that the 'Marscopter' does offer a fascinating new vantage point of the Perseverance's wreckage and what it could mean for future missions.
"If they either reinforce that our systems worked as we think they worked or provide even one dataset of engineering information we can use for Mars Sample Return planning, it will be amazing," he said.
"And if not, the pictures are still phenomenal and inspiring."
Teddy Tzanetos, Ingenuity's team lead at NASA's Jet Propulsion Laboratory in Southern California, praised the Ingenuity helicopter for its groundbreaking work on Mars.
"NASA extended Ingenuity flight operations to perform pioneering flights such as this," he said.
"Every time we're airborne, Ingenuity covers new ground and offers a perspective no previous planetary mission could achieve."
The crystal-clear space photographs could now be used to formulate safer ways to land future space craft on our closest planetary neighbour.
This could be useful for the Mars Sample Return Lander, which is part of a mission that would bring Perseverance's samples back to Earth for detailed analysis by scientists.