Ukrainian Man Casually Shaves While A Russian Missile Sits In His Kitchen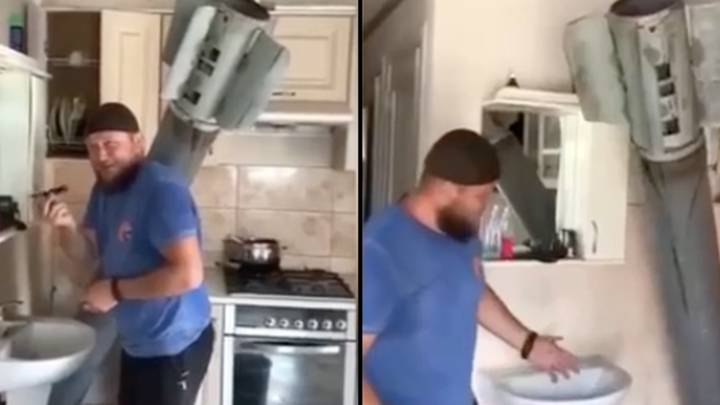 Incredible footage of a Ukrainian man shaving his beard with a rocket embedded in his kitchen is going viral online.
In the footage, the guy can be seen having a totally normal one. Life does go on, after all. Even if you have a warhead just chilling in your home.
In the footage, uploaded to Reddit, the man shows off the hole in his ceiling where the undetonated rocket entered.
He doesn't seem too fussed, but we would 100 per cent not be in that house if a missile came through the roof and didn't go off.
Reddit users had similar concerns.
One user said: "Bruh, I won't go into my room if there's a spider this man is shaving with a rocket."
A second added: "Honestly, that would make a pretty awesome lamp once s**t calms down. Provided it doesn't still have a live warhead attached."
A third said: "Who the f**k do you call about this?"
For many, the rocket wasn't the big issue. Instead, they were asking why on Earth this man has what looks to be a bathroom sink and mirror in his kitchen.
One user said: "No one else is wondering why a bathroom sink and mirror is next to the kitchen stove?"
A second added: "I found this more confusing than the rocket."
Thankfully for the bloke, it seems like officials have stopped by his home to make sure everything is safe.
This isn't the first spine-tingling video to come out of Ukraine lately.
A Ukrainian 'sniper' has been captured on camera sitting on the ground in grassy camouflage gear, with a Predator mask to complete the scary-as-hell look.
There have been plenty of garish looks that have appeared since the war began but this is up there.
Viral footage of the soldier has been posted to social media and it's gone absolutely viral.
In the last four months since Putin's 'special military operation' began in Ukraine, more than 7.7 million people have fled the now war-torn nation, as per the UN.
The Russian invasion has attracted global scorn, with Ashurst reporting that sanctions against Putin, his cronies, and his nation are currently imposed by the US, EU, UK, Canada, Australia.
If you would like to donate to the Red Cross Emergency Appeal, which will help provide food, medicines and basic medical supplies, shelter and water to those in Ukraine, click here for more information.