Residents have taken matters into their own hands after drivers repeatedly travelled up to 80mph (128km/h) on Shurdington Road, breaking the 30mph (48km/h) speed limit.
Local Democracy Reporting Service volunteers monitoring how fast cars were travelling in the area recorded more than 1,600 cases last year, according to the Daily Mail.
As a result, locals planted two 'speed cameras' made from yellow-painted cardboard boxes onto street signs over the weekend.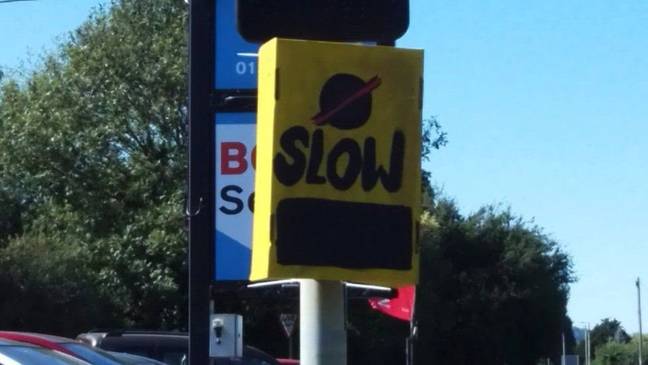 Despite the 'speed cameras' looking like a primary school student designed them, they proved to be effective as many drivers reduced their speed limit.
However, shortly after, the cameras were taken down.
While it's not illegal to install fake speeding cameras in the UK, police strongly advise against it.
A Shurdington Parish Council spokesperson said that although he is 'thrilled' to see community members taking action, he doesn't condone the act, according to BBC News.
A spokesperson from Gloucestershire Constabulary also said that speeding in the area was becoming a significant problem.
They said: "Speeding is one of the 'fatal four' causes of road deaths and injury in the county along with using a mobile phone while driving, not wearing a seatbelt and drink or drug driving.
"Driving within the set limit allows you to stop safely within the distance you can see to be clear providing time to react and avoid a collision with another road user.
"Speed limits are set for a reason and exceeding them is illegal.
"The minimum penalty for speeding is £100 (AUD $172 or USD $121) fine and three points added to your licence. Receiving 12 or more points within three years may disqualify you from driving."
As of this year, all new cars made in the EU will install Intelligent Speed Assistance (ISA) technology, which forces cars to react when a driver is speeding.
Cars will notify drivers exceeding the speed limit in a few different ways, including a 'beeping or buzzing' signal or the wheel vibrating, according to Top Gear's website.
Additionally, a survey conducted by road safety charity Brake and insurer Direct Line found that nearly all drivers in the UK believe that cars should have this technology featured.
The survey - which spoke to more than 2,000 drivers - found that nine out of 10 drivers were in favour of the new policy.