Three out of the top five confirmed longest sniper kills are held by the Canadian military
When it comes to the country that produces the best snipers in the world, Canada might not be the first place you think of.
But it turns out the Great White North, as it's also known, is home to some of the finest military marksmen out there - so much so that three of the top five longest shots were carried out by Canadian snipers.
It was quite the feat, although not enough to knock the Canadian sniper out of first spot for longest confirmed kill in military history.
In 2017, the unnamed shooter from the country's elite Joint Task Force 2 managed to neutralise an Islamic State target in Iraq at a distance of 2.19 miles (3,540 metres).
He had used a long-range anti-materiel rifle named McMillan Tac-50 with .50 BMG ammunition.
This was the same weaponry adopted by two other Canadian snipers who are also in the top five list of longest recorded kills.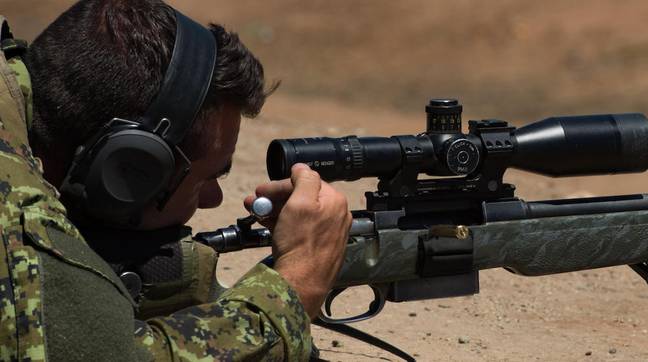 Coming in fourth place is Corporal Rob Furlong, who previously set the world record in 2002 after gunning down an Afghan rebel during Operation Anaconda, a military operation that was part of the war in Afghanistan.
The former sniper with the 3rd Battalion managed to do so at a distance of 1.5 miles (2,430 metres), which exceeded the previous record set by his comrade Master Corporal Arron Perry just a couple of weeks prior.
Perry's kill from 1.43 miles (2,310 metres) is currently in fifth place on the longest sniper death list.
The order of the list may change in light of the Ukrainian gunman's feat, but it doesn't take away from the fact that Canada produces some seriously skilled marksmen.
In fact, the 'world's deadliest sniper' is the name often used to described a French-Canadian shooter known as Wali.
A couple of weeks into combat, Wali had to speak out to confirm he was still alive after rumours began to circulate online that he had died.
Speaking with Canada's Global News back in March, he said: "I was the last person to learn the news that I was dead. I think it's just trolling.
"But I think it's strange because after a while the enemy will lose credibility with this propaganda. I don't understand why they push such lies.
"It's pretty obvious because after a few days I'm popping out and telling everyone I'm alive."
The expert gunman went on to say that Russia's fighters are 'not awesome' - and clearly they're not a match for Canada's expert snipers.
If you would like to donate to the Red Cross Emergency Appeal, which will help provide food, medicines and basic medical supplies, shelter and water to those in Ukraine, click here for more information