Man wins legal right to be not 'fun' at work after being sacked for skipping team drinks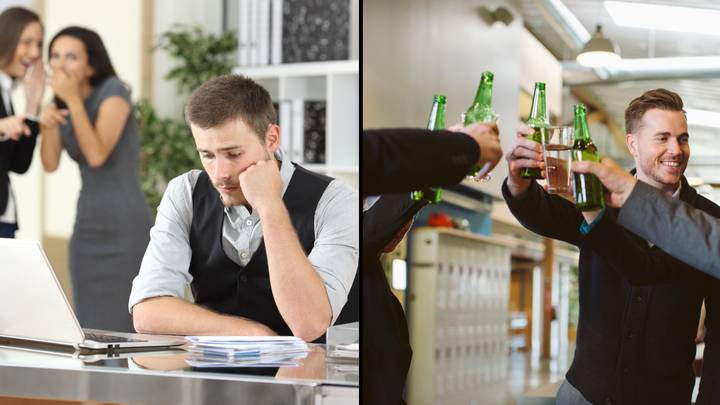 A man who sued his workplace after they fired him, claiming he was 'not fun enough', has won a lengthy legal battle in court.
Vice reported that the man, referred to as 'Mr T' in court documents, has prevailed in France's highest court after suing his former workplace that fired him in 2015.
The company alleged the man was a 'professional incompetence' for refusing to attend staff drinks on a regular basis.
According to the court documents, the man, who worked as a senior adviser for Cubik Partners. would often turn down an invitation for staff drinks as his colleagues would engage in 'excessive alcoholism' and 'promiscuity', as per The Washington Post.
Mr T and his lawyers argued that instead of establishing a good company culture, Cubik Partners' social events usually involved 'humiliating and intrusive practices'.
This included crude nicknames, mocking sexual acts and sharing a bed with another employee.
However, the company's lawyers insisted that Mr T didn't adhere to the company's values and would sometimes use a 'brittle and demotivating tone' while speaking with his former employees.
They added that the alleged fun sponge didn't respond well to feedback and couldn't tolerate different points of view.
But the judge sided with Mr T, deeming that he had been wrongfully terminated.
"Mr. T could not be blamed for his failure to integrate the values of the company, which [saw] the necessary participation in seminars and weekend parties frequently generating excessive alcoholism encouraged by [company] associates who made very large quantities of alcohol available," the judge said, according to Fortune.
The judge ordered the company to pay Mr T around AUD $ 4,477 (£2,500 or USD $3,000 ) in damages, and the man's request for an additional AUD $716,252 (£400,000 or ​​480,146) would be assessed at a later date.
LADBible has reached out to Cubik Partners for comment.
However, this isn't the first time problems within the nation's toxic workplace culture have surfaced.
Last year, a study conducted by the French human rights defender, Defenseur des Droits, found one-third of surveyed women had experienced sexism while job hunting or trying to advance in their careers, as per RFI.
Sixty-three per cent had also revealed they were discriminated against due to their physical appearance.
The study also showed that women between 18-34 were the most likely to face sexism.
Featured Image Credit: Antonio Guillem Fernández / Alamy Stock Photo. Cavan Images / Alamy Stock Photo
Topics: World News, News