News
Psychologist Wants Nerd-Shaming To Be Made A Hate Crime
There are plenty of smart people out there who get picked on for being intelligent. Who knows why having a high IQ or just a good general knowledge about a particular topic makes them a target, but it happens.
Well, one psychologist is hoping that will be a thing of the past as she campaigns to have nerd-shaming listed as a hate crime.
University of East London lecturer and psychotherapist Dr Sonja Falck says smart people have been called all sorts of names and it's time that language gets treated the same as other discriminatory words.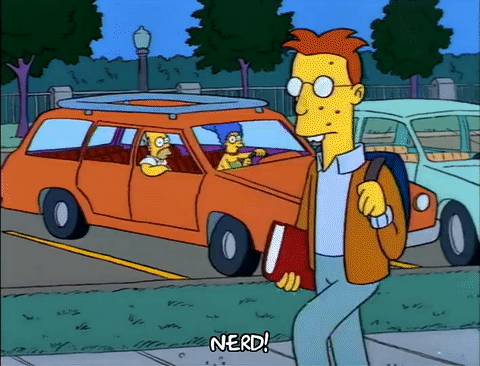 Image result for homer simpson nerd

At the launch of her book, Extreme Intelligence, she explained how the world needs to grow up and change the way it treats smart people.

"The N-word was common parlance in the UK until at least the 1960s," she said, according to the Daily Mail.
"Other insulting slurs about age, disability, religion and gender identity remained in widespread use until relatively recently. Society at the time turned a blind eye to their impact by passing them off as harmless banter.
"It is only with the benefit of hindsight and academic research that we realise how wrong we were.
"The same can be said about anti-IQ words like 'nerd', 'brainbox', 'geek', 'egg-head', 'dweeb' and 'smarty-pants',' she added.
More Like This
More Like This
1 of 6
"Slurs such as these will continue to be used unabated at the expense of the brightest members of society unless and until legislative action is taken."
There is already legislation in England and Wales that covers people if they're the are the victim of threatening language that focuses on their race, colour, disability, nationality, ethnicity, religion, sexual orientation or gender identity.
But Dr Falck reckons that the 'last taboo', aka intelligence-shaming, should be included in that list. If that was to actually happen, it would more than likely be intelligence in general, meaning you wouldn't be able to shame someone for being dumb as well.
Very unsurprisingly, the psychotherapist is being supported by Mensa, the international society for people with high IQs.
The group's chief John Stevenage said: "Very high-IQ individuals often experience isolation or bullying from people around them because they are perceived as being different from the majority.
"Mensa as an organisation gives people with very high IQ a community which is non-judgemental and inclusive of difference. Put simply, everybody is different, so no-one is."
So be careful what you say to smart people because they have feelings too.
Featured Image Credit: Fox/The Simpsons
Topics: News