Police Investigating 'Death Match' Wrestling Event In UK Village
Police have launched a probe into a wrestling 'death match' in County Durham.
On 29 April, the Conservative Club in Seaham hosted a Colliery Championship Wrestling (CCW) which escalated into blood-soaked mayhem, with performers attacking each other with a garden strimmer and glass.
The 80-strong audience hadn't been advised of the level of violence to expect beforehand, and had even been offered discounted family tickets for the event.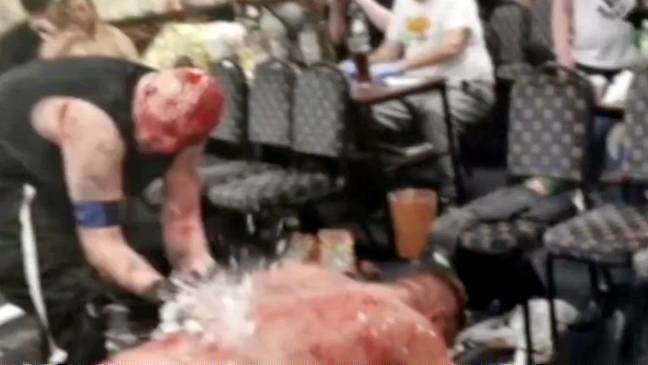 According to James Barrass of CCW, the brawl between wrestlers Ronnie Thatcher and Blizzard 'escalated' without his prior knowledge, particularly regarding to use of improvised weapons.
He told BBC News: "Things can sometimes not go to plan. Obviously there was a little bit more that went down.
"I spoke to the two guys afterwards. We had discussions and obviously that will not be happening again."
While apologising to people in attendance and admitting it wasn't necessarily 'everyone's cup of tea', Barrass said much of the audience actually ended up enjoying it.
He added: "We have apologised but how many times do you say sorry? How many times do you have to be penalised in life?"
The now-infamous match caught the attention of social media users via Teesside-based Twitch streamer and wrestler Benji. He criticised the death match, a form of extreme wrestling popularised by the WWF in the '90s involving the use of weapons.
Speaking to BBC Radio Tees, he said: "I've never seen this in my time in wrestling. I've been involved for seven years and I've never seen this type of ultra-violence in front of a family audience.
"If I see a family-friendly show advertised, I'm going in good faith that my child will be seeing what they see on TV."
Amid the controversy, a Durham Constabulary spokesperson told the publication: "We are working with Durham County Council's licensing team after a number of complaints were received by the local authority in relation to an event at Seaham Conservative Club on 29 April. Inquiries are ongoing."
Barrass doesn't seem to have been put off by the complaints. In fact, he said it's 'opened more doors than it has closed', with more CCW death matches in the pipeline, with the caveat that they'll be restricted to over-18 attendees.
As for Ronnie Thatcher and Blizzard, they received medical attention at the event. "They got looked after behind the scenes. A couple of scratches here and there," Barrass said.
"Blizzard was out having breakfast with his girlfriend the very next day. He said getting a new tattoo hurt him more."
Featured Image Credit: Credit: Twitter
Topics: UK News